Japan's Sony forecasts losses until 2015 after PC exit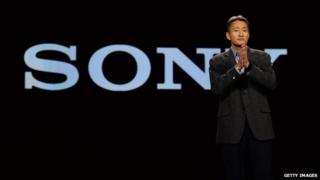 Japanese electronics giant Sony forecasts it will remain unprofitable until 2015 after a restructuring saw it exit the personal computer business.
The company said it expects a net loss of 50bn yen (£290m; $489m) this coming financial year.
It also swung to a loss of 125bn yen for the 12 months to March 2014.
The results put pressure on chief executive Kazuo Hirai, who pledged two years ago to return its underperforming electronics business to profit.
The firm has been struggling to turn around its television unit, which has been losing money due to stiff competition from Asian rivals such as Samsung Electronics.
Three profit warnings were issued in the past year, and Sony executives are set to forfeit their bonuses due to the weak results.
PC exit
Sony's fall from grace stems from slumping demand for its flagship products of televisions and computers.
As part of its restructuring, the firm exited the PC business by selling off its Vaio brand to Japan Industrial Partners earlier this year.
The company also announced 5,000 job cuts and has sold off other assets such as its US headquarters and its stake in Japanese satellite broadcaster Sky Perfect JSAT Holdings.
Sony chief financial officer Kenichiro Yoshida told an earnings briefing that it made sense to bow out of some businesses.
"In previous years the restructuring was mostly within business units and in manufacturing," he said. "This time the difference is that we are quitting businesses entirely."
Mr Hirai has also spun off Sony's TV manufacturing business into a separate unit, focusing its production on large-screen models.
Sony's TV unit has lost more than 700bn yen over the past decade, according to Bloomberg.
Future plans
The company plans to spend an additional 135bn yen on more restructuring in the coming year.
Sony has been betting on the sales of smartphones, cameras and game consoles like the PlayStation to help turn its fortunes around.
Last year, the company also came under pressure from activist shareholders to partially spin off its entertainment division, which has released movies such as Oscar winner "American Hustle".
However, Sony rejected the proposal saying the entertainment unit is "integral to Sony's strategy".
Sony's most recent film release, The Amazing Spider-Man 2, has raked in more than $146m (£86.5m) in US box office receipts and there are two further sequels in the pipeline.
The company is also exploring the possible launch of an internet-based pay television service in the US.
Earlier, Sony shares had closed 1.1% higher in Tokyo ahead of its earnings announcement.