Wages growth outpacing inflation, ONS figures show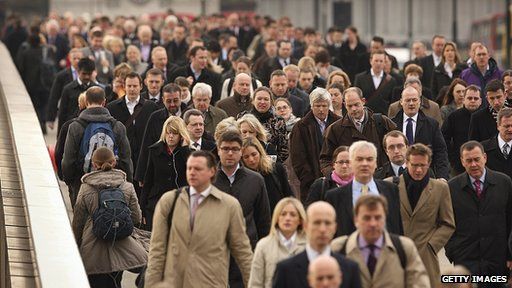 Average weekly earnings are now rising faster than inflation for the first time since 2010, Office for National Statistics (ONS) figures have shown.
The annual rate of inflation in March was 1.6%, as measured by the Consumer Prices Index (CPI).
However, when bonuses are excluded, wages grew by 1.3%, still below the CPI inflation rate.
Earnings growth last outstripped the inflation rate briefly in early 2010. However, inflation has outpaced wage rises for most of the past six years, leading to a cut in spending power for millions of UK citizens.
The Office for Budget Responsibility (OBR) has forecast that real incomes will not return to 2008 levels until 2018 at the earliest.
The 1.7% figure was the same as for February, but has only now officially exceeded inflation, as the monthly figures are directly comparable.
The figures do not include wages for 4.5 million self-employed workers, who represent a growing proportion of the working population.
They are likely to have seen lower pay rises than the workforce as a whole.
The earnings figures were also not as good as many analysts in the City had been anticipating.
"This is actually a markedly weaker set of earnings data than expected," said Howard Archer, chief UK and European economist at IHS Global Insight.
"March's earnings data are disappointing for consumer purchasing power," he said.
However, some analysts were optimistic that wages would continue to rise.
"I think average earnings could surprise in strength as we go through the year," said Louise Cooper, an independent market analyst.
"Companies have not invested for years and for the large companies, profit margins are relatively high. Many can afford to pay their staff more," she said.
The governor of the Bank of England, Mark Carney, said any sustained rise in wages would need an improvement in productivity.
He said the UK lagged behind the US, which is 20% more productive.
Related Internet Links
The BBC is not responsible for the content of external sites.