UK unemployment rate falls to five-year low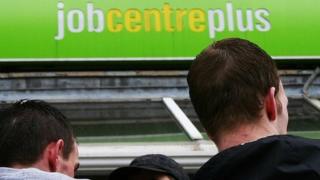 The number of people out of work in the UK fell by 133,000 to a fresh five-year low of 2.2 million in the three months to March, official figures show.
The jobless rate also fell to a five-year low of 6.8%, the Office for National Statistics (ONS) said.
The number of people in work rose to 30.43 million, the highest since records began in 1971, helped by a rise in self-employment.
Average earnings in the three months to March were up 1.7% from a year earlier.
The growth rate in wages - which includes bonuses - was unchanged from the previous month and was slower than analysts had expected.
However, with the inflation rate at 1.6% in March - as measured by the Consumer Prices Index (CPI) - it means earnings rose faster than inflation for the first time since 2010.
Excluding bonuses, earnings grew by 1.3% in the three months to March when compared with a year earlier.
Youth unemployment down
In all, 283,000 more people found work in the three-month period, which was the largest quarterly increase since records began in 1971.
The number of people working for themselves reached a record high of 4.55 million, with self-employment jumping by 183,000 in the quarter to March, compared with a rise of 375,000 over the past year.
The number of people claiming Jobseeker's Allowance in April fell by 25,100 to 1.12 million.
And the number of unemployed 16 to 24-year-olds fell by 48,000 to 868,000 - the lowest figure for five years.
"As the recovery takes hold, more people are able to get a job or set up their own business and become the employers of tomorrow," said Minister for Employment Esther McVey.
Prime Minister David Cameron tweeted: "There's more to do, but it's welcome unemployment is down again. More jobs means more financial security for people."
David Kern, chief economist at the British Chambers of Commerce (BCC), said that the UK labour market was continuing to strengthen.
"The figures continue to demonstrate the flexibility and resilience of the jobs market, which is a source of strength for the economy."
However, Jeremy Cook, chief economist at the currency company, World First, said the fact that average earnings were unchanged was disappointing.
"[This] outweighs any positive sentiment coming from the fall in the overall rate of unemployment to 6.8%," he said.
BNP Paribas UK economist David Tinsley added that the rise in employment was "disproportionately a self-employment story".
"The rise in people working as full-time employees is significantly less, at 0.3% on the quarter," he said.
"The proportion of people working part-time because they can't find a full-time job is now falling, but remains relatively high."
The number of people in full-time work rose 0.3% to reach 18.9 million, as opposed to 6.7 million in part-time work, a rise of 0.6% in the quarter.
During Prime Minister's questions in Parliament on Wednesday, Mr Cameron said that the number of people in full-time employment had risen.
"We are growing the economy and we've got more people in work," Mr Cameron said.
Mr Cameron added that increasing the number of apprenticeships was "an absolutely vital part of our long-term economic plan".
However, the Labour party said that hundreds of thousands of young people remained unemployed.
"While this fall in overall unemployment is welcome, today's figures show that young people and the long-term unemployed are being left behind," said Labour's shadow work and pensions secretary Rachel Reeves.
"Under David Cameron, over 850,000 young people are unemployed and there are still over 100,000 more people out of work for two years or more than in 2010," she added.