Japan posts strong growth ahead of sales tax rise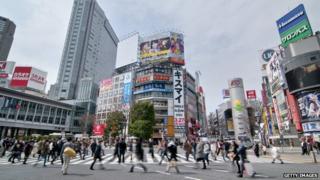 Japan's economy grew at the fastest pace in nearly three years in the first quarter due to increased spending ahead of a sales tax increase on 1 April.
Official data showed GDP rose 1.5% in the January-to-March period, against a revised 0.1% in the prior quarter.
The figure beat forecasts for 1% growth, and was led by consumer spending which rose by 2.1%.
Capital spending by businesses also outperformed, rising by 4.9%, which was more than double analyst expectations.
Private consumption accounts for about 60% of Japan's economy. However, economists warned that spending may taper off now that the April tax hike has been introduced.
"Japan's economy expanded rapidly ahead of the sales tax hike, but is set to slump thereafter," Marcel Thieliant, Japan economist at Capital Economics, said.
"Looking ahead, the economy will certainly contract in the second quarter of the year, as consumers rein in spending after the tax hike, and residential investment is set to plunge."
Trade deficit
Japanese Prime Minister Shinzo Abe has been trying to revive growth in the world's third-largest economy.
His policy of "Abenomics" has helped Japan's economy grow faster, but concerns remain about whether the recovery is durable.
Analysts warn that Japan's huge trade deficit could pose a risk to growth.
Data released on Monday showed that exports grew 6% quarter-on-quarter as a weaker yen made Japanese goods cheaper to overseas buyers.
However, the weaker currency has also made imports more expensive for Japan, which has continued to buy vast quantities of foreign fuel to compensate for its lack of nuclear power.
Bill Adams, senior international economist for PNC Financial Services Group, also expects an economic contraction in the second quarter.
"Japan's imports continued to grow faster than exports in the first quarter, as they have in each of the preceding two quarters," he said.
"Abenomics has boosted Japanese import demand more than the weaker yen is boosting Japan's exports."