Eurozone economic growth loses momentum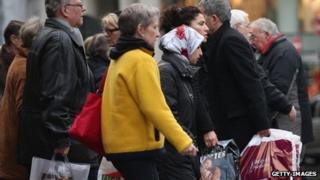 Eurozone economic growth lost momentum in the first three months of 2014, official figures show, with the growth rate unchanged from the previous quarter at 0.2%.
That was weaker than many economists had expected.
German growth picked up pace, with the economy expanding by 0.8%.
But France and Italy disappointed. The French economy failed to grow, while Italy's contracted by 0.1%, having only just emerged from recession last year.
Spain's economy grew by 0.4% in the first quarter.
Commenting on the eurozone figures, Chris Williamson from the economic research group Markit, said: "Although the economy has now grown for four consecutive quarters, the pace has failed to accelerate to anything other than lacklustre over this period."
"The data therefore add to the likelihood of the ECB taking action at its June meeting to inject more stimulus into the economy," he added.
The BBC's Andrew Walker points out that Greece and Spain have the worst jobless figures, as about one in four of those wanting to work is out of a job.
'Going backwards'
He said that Spain's 0.4% growth was not strong enough for a rebound from a very deep recession and it would take more rapid expansion to create the large numbers of new jobs needed.
He added that Italy and France had unemployment rates in double figures, so the weakening performance in those countries was of particular concern.
Meanwhile, Ashley James from Royal Bank of Canada said: "There is no need to be all doom-and-gloom about this - after all, modest growth is what was expected, and modest growth is what we got - but to attempt to present this in a positive light would be akin to putting lipstick on a pig."
Chiara Corsa, from Italy's UniCredit bank, said about Italy that the number was a very weak result.
"It's due to weakness in the industrial sector. We had expected a positive contribution from exports and domestic demand," she said. "Growth has stopped. Even worse, it's going backwards."
France's 0% growth rate was put down to weak consumer spending and business investment.
Public spending helped to prevent it from contracting.
Mild weather
France's statistics agency, INSEE, said that GDP had "levelled off after a small increase" in the last three months of 2013, when the economy grew by 0.2%.
It said that "total domestic demand dropped and contributed negatively to activity".
The statement added that expenditure on food products fell, in particular on tobacco, after the price increase in January.
In Germany, the statistics agency, Destatis, said the mild weather also helped the stronger growth.
"Private households and the government increased spending at the start of the year," the statement said.
"The trend in investment was also positive, with a sharp increase in investment in both construction and equipment," it added.