Manchester United posts rise in profits and revenue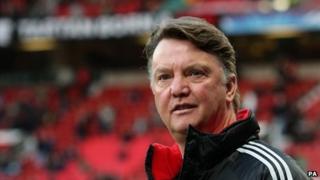 Manchester United has reported a sharp rise in profits and revenue despite a disappointing season on the pitch.
For the three months to the end of March, profits were £11m, up from £3.6m a year ago. The club also posted record revenues of £115.5m for the period.
Commercial, broadcasting and match day revenues were all up on last year.
The club is expected to appoint Holland manager Louis van Gaal to replace David Moyes, who was sacked last month, as manager for next season.
Reports suggest an announcement on the manager will be made next week.
The club finished the Premier League season in seventh place, and have not qualified for European football as a result.
More sponsors
Club executive vice chairman Ed Woodward said: "We once again generated record revenues as all of our businesses delivered impressive year-over-year growth.
"This puts us in a healthy position to continue to invest in the squad. Everyone at the club is working hard to ensure the team is back challenging for the title and trophies next season".
Commercial revenue rose almost 20% to £42.8m, largely due to an increase in sponsorship - the club signed deals with drinks company Aperol and with Eurofood in Southeast Asia.
Broadcasting revenue was up 64% at £35.6m, while match day revenue was up slightly at £37.1m.
Overall debt fell by £16m to £351.7m.
According to the most recent Deloitte Football Money League, Manchester United is the fourth highest-earning club in world football. Shares in the club were floated on the New York Stock Exchange in 2012.