European Union car sales rise 4.6% in April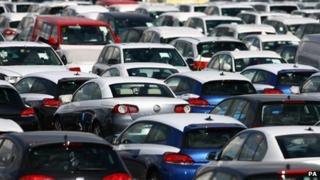 Sales of new cars in the European Union (EU) rose 4.6% in April compared with the same month a year earlier figures have shown.
The European Automobile Manufacturer's Association (ACEA) said demand for new cars within the EU rose for the eighth month in a row.
Discounts, government incentives and sales of cars marketed as "nearly new" propped up the figures, analysts said.
Car sales were strongest in Spain, which saw a 28.7% year-on-year rise.
That helped offset a 3.6% fall in new car sales in Germany.
Sales also rose 1.9% in Italy, 5.8% in France and 8.2% in Britain.
When car sales in the European Free Trade Association (EFTA), which includes countries such as Norway and Switzerland, were included the overall figure fell slightly to 4.2% in April, the ACEA said.
The EFTA saw car sales fall 5.5% in April compared with a year ago.
Mass-market car manufacturers Ford, Fiat, Renault and Opel showed stronger growth than premium brands, the figures also showed.
Sales of new cars in April for Peugeot, Renault and Opel - part of US car manufacturer General Motors - rose 5.8%, 9% and 5.1% respectively, the ACEA said.
And new car sales were up 7.3% at Ford and 3% at Fiat.
But sales of Mercedes-Benz were just 1.1% higher and rival premium brand Audi (owned by Volkswagen) saw sales grow just 0.6%. BMW new car sales were higher by 2.3%.
Volkswagen and Hyundai were the only mass-market brands to see declines in April, recording a fall in sales of 0.8% and 4.4% respectively, the figures showed.