WWE shares slammed as TV deal fails to impress investors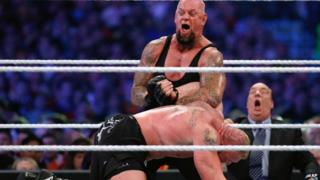 Shares in US wrestling entertainment company WWE have fallen by almost 50% as a renegotiated TV deal failed to impress investors.
The firm, which is famous for shows such as Friday Night Smackdown and Monday Night Raw, signed a "multi-year" contract with the US cable TV network NBCUniversal on Thursday.
Analysts said the "limited visibility" of the network worried stakeholders.
WWE made $106m in revenue from domestic television rights in 2013.
The company's shares fell by as much as 47% on Friday, wiping hundreds of millions of dollars of its market value.
WWE, which stands for World Wrestling Entertainment, recently launched WWE Network, a 24/7 online streaming channel, in a bid to replace viewers it has lost in its pay-per-view and on-demand services.
However initial reports suggest that the company is falling short of the million subscribers it needs to attract to its new channel in order to make ends meet.
Analysts also expressed doubts about the earnings potential of the renewed broadcast deal with NBC.
The company's chairman and boss, Vince McMahon, released a statement saying the deal would be a "foundation for long-term growth that continues to transform our business over the coming years".
Much of WWE's content is live programming, which, the company claims, is valuable because it is "DVR-proof".
WWE programming is broadcast in more than 150 countries and 30 languages.