Red Lobster sold by Darden Restaurants for $2.1bn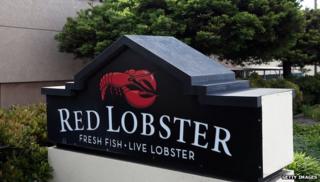 Darden Restaurants has sold its struggling Red Lobster chain of seafood restaurants to private-equity firm Golden Gate Capital for $2.1bn (£1.2bn).
Several activist investors have opposed the move.
They have argued for a larger restructuring of Darden, which also owns the Olive Garden restaurant chain.
Profits at Red Lobster have been hit by rising shrimp prices.
Shares in Darden slumped more than 4% on news of the sale.
Endless shrimp
Darden operates 706 Red Lobster locations in the US and Canada, which account for around 30% of its total sales.
The company has said it will use more than $1bn of the proceeds to pay down its debt.
Golden Gate Capital already owns several US dining chains, including California Pizza Kitchen and On the Border, a causal-dining Mexican chain.
Red Lobster has been struggling to attract US diners to its restaurants after the recession curtailed spending. It has also had to stave off competition from Chipotle and Panera, which do not offer table service and are thus slightly cheaper.
The chain has further been impacted by rising shrimp prices as a result of an incurable bacterial infection which has diminished Southeast Asian stocks.
Analysts at Credit Suisse estimated that the increase in price could cost Red Lobster $30m this year.
The chain is known in the US for its "endless shrimp" specials.