Ryanair profits drop for the first time in five years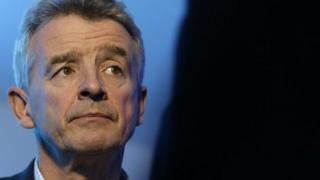 Airline Ryanair's full-year profits have fallen for the first time in five years.
Net profit fell to 523m euros ($717m; £426m) for the year to March, down from 569m euros in the previous year.
The firm has issued two profit warnings in the past year, citing intense price competition from rivals.
However, the carrier said it expected to boost its passenger numbers by 4% in the coming year to over 84.6 million people.
It also expects profits in the current financial year to rise by 10-20%, helped by strong levels of bookings for the summer.
Image makeover
Ryanair chief executive Michael O'Leary said the firm had "worked hard to improve customer experience" in the past 12 months.
During the year, the firm stepped up efforts to hang on to existing customers and to gain new ones by introducing measures such as allocated seating and cuts to excess baggage fees.
The carrier also started to allow people to bring a small, second carry-on bag, and toned down advertising on flights.
In November, Ryanair's shares took a dive after it issued a profit warning. It said fares had been falling because of "increased price competition, softer economic conditions in Europe and the weaker euro-sterling exchange rate".
In April, Ryanair hired a new marketing team to give the company an image makeover.
The firm's head of marketing, Kenny Jacobs, said at the time that Mr O'Leary's "unique style" and controversial publicity tactics would be harnessed "in the right way".
Mr Jacobs added that the firm had improved customer service, in part by revamping its website.