Thailand martial law hits local currency and stocks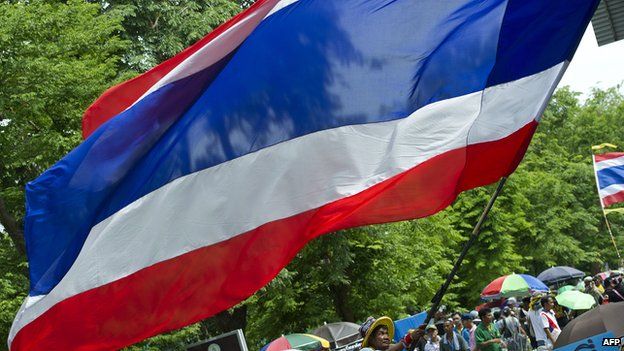 Thailand's currency the baht and Thai shares fell on Tuesday after the army imposed martial law in an attempt to restore stability. The move follows months of political protests.
The country's benchmark stock index the SET fell by nearly 1%. Over the past 12 months, the index has shed 12%.
Meanwhile the currency fell by as much as 0.6% to 32.52 Thai baht against the US dollar earlier in the day.
It later pared those losses, after suspected official intervention.
Traders in the region said they believed Thailand's central bank had stepped in to stem a further fall in the value of the baht.
The Thai baht is likely to "continue to underperform its peers in Asia unless further clarity emerges," said Vipul Agarwal, who works in global foreign exchange at Nomura.
Mr Agarwal also noted - "It's too early to tell how events will unfold over the next few weeks but the fact that the army has specifically stated that this is not a coup gives it a bit of a positive spin.
Foreign investors are clearly nervous about the developments in Bangkok and are hoping that this is a planned first step which could lead us out of the political mess by moving towards setting up a functional government and declaring an election schedule."
The martial law comes one day after Thailand reported a 2.1% contraction in the economy in the first quarter of the year, when compared with the previous quarter.
The Thai army says that it is imposing martial law amid a political crisis "to preserve law and order".
The surprise announcement also granted the army wide-ranging powers to enforce its decision.
The military insisted that its assumption of responsibility for national security was not a coup.
Martial law comes after a long-running political crisis, and months of escalating tensions between the government and the opposition.
The chief security advisor to the interim prime minister said the government had not been consulted about the army's decision.
Fitch Ratings said the imposition of martial law is "not, in itself, negative for Thailand's ratings, although clearly we are keeping the situation under close review."
The ratings agency currently has a BBB+ credit rating for Thailand with a 'stable' outlook.
Andrew Colquhoun, Head of Asia Pacific Sovereigns at Fitch Ratings added: "The key factors for the ratings are whether Thailand can avert more serious and bloody political disorder, and whether we see a return to a fully functioning government that is able to make policy and pass a budget for the next fiscal year starting in October.
The return of a functioning government and a lowering of the political temperature would help to restore confidence more broadly and pull the economy out of its tailspin."
Related Internet Links
The BBC is not responsible for the content of external sites.