JPMorgan, HSBC and Credit Agricole accused of euro rate-fixes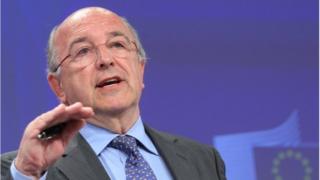 The European Commission has accused JPMorgan, HSBC and Credit Agricole of colluding to fix a key euro benchmark borrowing rate - Euribor.
JP Morgan and HSBC will fight the charges. Credit Agricole will study the European Commission's findings.
Penalties for the guilty are up to 10% of annual revenue.
Euribor is a cousin to Libor, which is used to set trillions of dollars of financial contracts from complex financial transactions to car loans.
In December, the Commission imposed fines totalling 1.04bn euros on Deutsche Bank, RBS and Societe Generale as part of the same investigation. Barclays escaped a fine as it had notified the Commission of the existence of the cartel, and the others were granted a 10% reduction in their fine for agreeing to a settlement.
The EU's competition body said: "The Commission has concerns that the three banks may have taken part in a collusive scheme which aimed at distorting the normal course of pricing components for euro interest rate derivatives."
JP Morgan said it had "co-operated fully with the European Commission throughout its investigation." The bank said it believed that the competition concerns were "without merit", and added it intended to "defend itself fully".
HSBC said: "We intend to defend ourselves vigorously."
Cartel?
The Commission's investigation has centred around concerns that the banks may have manipulated the pricing of interest rate derivatives - financial products which are used by banks to manage risks associated with interest rate fluctuations.
The products derive their value from "Euribor", a benchmark interest rate which is the eurozone equivalent of Libor.
In March 2013, the Commission opened proceedings regarding Credit Agricole, HSBC and JPMorgan, and the investigation as whether they were part of a Euribor rate-rigging cartel is continuing.
Should the banks be fined, they will not receive any reduction in penalties, competition commissioner Joaquin Almunia said.