Oil and gas fields in UK could become CO2 dumps, say MPs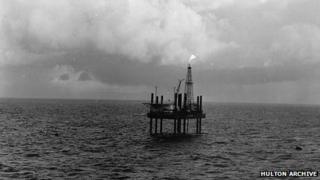 The UK's exhausted oil and gas fields in the North Sea could be transformed into a lucrative dump for Europe's CO2 emissions, MPs say.
The Energy and Climate Change Committee says nearby nations could capture the emissions from their power stations, then transport the CO2 offshore in pipes.
North Sea rocks that have been sucked dry of oil and gas could be pumped full of the unwanted CO2.
Critics say the idea is fanciful.
But Tim Yeo, the committee's chair, told the BBC that "the key to carbon capture and storage is economics".
"The UK's geology under the North Sea is a potential asset to exploit and if we can find ways of getting another income stream by accepting someone else's unwanted CO2 it might move forward the date when CCS (carbon capture and storage) in the UK is commercially viable," he added.
Mr Yeo also hopes that by forcing CO2 into the crevices containing residual trapped hydrocarbons, the UK will be able to squeeze more gas and oil from depleted reserves.
Overall, his committee is highly critical of the UK government's commitment to CCS.
It believes a new industry could be created to transport and store unwanted CO2.
"Any decline in North Sea (extraction) activity could be compensated for in carbon transport and storage activity," it says.
The idea is being promoted by the Crown Estate, which governs the UK's sea bed.
'Impact'
But Nick Molho from WWF told the BBC: "We were very surprised to see this idea - and surprised to see it is thought that the North Sea has enough capacity for all the CO2 we need to dispose of.
"It seems to be running ahead of itself - let's get the first steps in carbon capture and storage sorted out first."
In 2007 ministers launched a competition to kick-start CCS.
To date, it has delivered only initial funding to two projects - a gas plant at Peterhead in north-east Scotland and a coal plant, Drax, in North Yorkshire. The expected start date of CCS has been pushed back from 2014 to 2020.
The MPs say the delay has called into question the credibility of government policy.
Mr Yeo said: "Fitting power stations with technology to capture and store carbon is absolutely vital if we are to avoid dangerously destabilizing the climate.
"These two demonstration projects will not be enough to kick-start the CCS industry or have a significant impact on our carbon budgets,"
The world's first full-scale power plant with full CCS is due to open soon in the US - the CO2 will be used to enhance oil recovery.
The technology has been progressing slowly worldwide, with Norway - previously a world leader, reducing support.
WWF said the government should not plan new fossil fuel power plants under the assumption that CCS would become economically viable.
'Getting it right'
But Energy Minister Michael Fallon said: the UK was ahead of the rest of Europe with the Drax and Peterhead CCS projects, which were "actively undertaking detailed engineering studies ahead of full construction".
He said that as the £1bn being invested in CCS, there would "also be additional support through low-carbon Contracts for Difference for a number of years to come, so it's important we take the time to get our decisions right and follow a robust process",
Mr Fallon added: "Our vision for CCS in the UK does not stop at these first projects.
"We want to see a strong and successful CCS industry able to compete on cost with other low carbon technologies in the 2020s."