Teaching low-income kids the power of entrepreneurship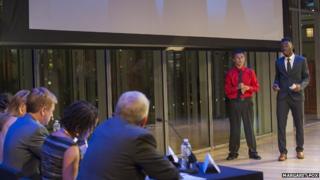 In a conference room full of potential investors, Tyrique Lancaster nervously introduces his business, an eco-friendly landscaping company called GreenScape.
He stumbles through some of the introductory remarks, but when it comes to the details of his enterprise he's whip smart and no nonsense, rattling off rapid-fire data about variable material costs, and return on investment.
When one investor mentions the possibility of pursuing snow-removal work in the winter, Mr Lancaster seems positive, save for one small catch.
"I can't drive yet," he says, and the volunteer who takes him to summer jobs isn't available in the winter.
Mr Lancaster is only 16, a pupil from McKinley Technology High School in Washington DC. His volunteer is his grandfather, who has been working with him on neighbourhood lawns for a few years.
The presentation takes place in the US capital at the semi-final stage of a competition organised by the Network For Teaching Entrepreneurship (NFTE), a New York-based not-for-profit organisation.
It is the penultimate stage of a year-long programme to bring entrepreneurship skills to lower-income US high school students.
NFTE believes training youngsters to run their own businesses makes them more likely to finish school - and better able to thrive after graduation.
The organisation, which has programmes in 10 other countries, also trains teachers, and provides mentors for students enrolled in entrepreneurship classes at school.
As part of the class, the students must develop a business, and then present the business plan to judges.
The best plans are selected to advance, and eventually vie for a $25,000 (£15,000) prize, and a national title.
Searching for a spark
Last year's US winners were two students from Chicago who developed a football sock with a built-in pocket for shin guards.
The company, called T&J Soccer, is now in talks with both manufacturers, and Chicago's professional football club - Chicago Fire - in regard to distribution.
But the goal is less about coming up with the next big blockbuster business idea, and more about teaching students business skills, and getting them to think about being their own boss.
"The programme helps them identify something they are interested in, and put a spark within them to turn that passion into a business," says Patricia Granata, NFTE's Washington DC executive director.
"The goal is a pathway to prosperity, whether it is a college education, or just giving them the skills they need to help make them functional members of society."
Indeed, a report put out by NFTE shows that students involved in the programme are more likely to stay in school than those who aren't involved. Close to 90% of NFTE's US participants graduate from high school.
And according to the study, 89% of the NFTE's US alumni aged between 25 and 40, and with a high school diploma, were employed in 2012.
The national average for the same population without NFTE participation was 69%.
Jasmin O'Neal, a teacher in Prince George's County, outside of Washington DC, says her students respond well to a class that prepares them directly for life after graduation.
"Not all of my students are college bound," she says. "Those who are not, this gives them the skills they need [to grow their own businesses]."
Ms O'Neal adds that past participants of the programme from her school have gone on to run several small businesses including barbershops, salons and landscaping businesses.
Invisible capital
The idea that anyone with a good idea and some hard work can become a success is one that's deeply ingrained in the American psyche.
But the reality is that starting a business takes more than pluck and grit. It often takes resources that lower-income Americans can't easily access.
"Some students may be lacking the resources in terms of better schools, better role models, and other types of invisible capital," says Ms Granata. NFTE attempts to fill this gap.
"It puts them on an equal level with students who have more resources," she says.
But invisible capital isn't the only thing entrepreneurs have to worry about, says Dane Stangler, vice president of research at the Kauffman Foundation, another organisation that supports entrepreneurship in young people.
He says that having insufficient money, not lack of a formal business education, is often the biggest barrier for low-income entrepreneurs.
Mr Stangler adds: "Access to capital is always an issue, especially since for the general population of entrepreneurs, your own savings and friends and family are, in nearly every single case, the initial sources of financing for a new business.
"If you're a low-income entrepreneur, you may not have access to those three sources."
He also notes that many of the businesses pursued by low-income Americans, such as beauty salons and nail parlours, also require a lot of up-front costs in the form of licensing fees.
'Keeping structure'
Mr Lancaster, who presented his landscaping company, walked away with a $50 participation fee after another student in his group, who designed and sold tie-dyed T-shirts, advanced to the next round.
It's not the money Mr Lancaster was hoping for, money he says would help upgrade the equipment and make the business more environmentally friendly. But he says the experience itself had tremendous value.
Having a proper business plan, he says, "keeps structure and organisation. It helps build your business over time."
After the presentation, he received several business cards from NFTE judges offering advice and support.
Now that summer is almost here, class is over, lawns are growing, and GreenScape is planning for a busy season.