SSE posts a 9.6% rise in annual profits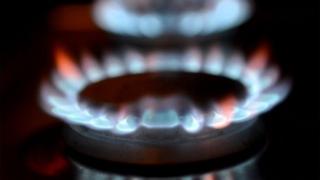 Big Six energy supplier SSE has reported a 9.6% rise in pre-tax profits to £1.55bn for the year to 31 March compared with £1.4bn a year earlier.
The firm said it had been boosted by a strong performance in its electricity transmission operations.
But the results come during what it said was a "very challenging" time for the energy sector.
In March SSE said it was freezing its energy tariffs until January 2016.
'Mixed bag'
The UK's Big Six energy suppliers, which control around 95% of the retail market, have come under fire in recent years for steadily increasing tariffs.
SSE also said it had lost 370,000 customers over the course of the year but it said most of the decline in customer accounts came before it announced its two year price freeze.
It said increased switching between suppliers by customers during the year had meant the number of electricity and gas customer accounts in Great Britain and the Ireland had fallen from 9.47 million to 9.10 million.
Meanwhile, SSE's operating profits from its retail operations fell by 28.6% to £292m. The energy supplier's share price rose 0.26% in early trading on the London Stock Exchange to 1572p.
SSE Chief executive Alistair Phillips-Davies told BBC Radio 4's Today programme that the results were a "mixed bag", given the near fall in profits in the retail division.
Switching
He added that the company's commitment to freeze energy tariffs until 2016 would reduce profits by £100m.
Mr Phillips-Davies said SSE faced intense competition in the market from smaller suppliers.
He added: "I think there is a lot SSE can offer, but people have switched. [However] I think we have lots of customers satisfied because they are staying with us."
SSE also reported a one-off charge of £747.2m as a result of scaling back its offshore wind projects, as well as the disposal of what it called "non-core" businesses which include street lighting contracts.
When included in the full set of accounts those charges reduced SSE's pre-tax tax to a 0.7% rise to £575.3m.