China gas deal: Russia's prospects in the East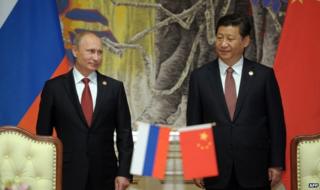 China is Russia's most important trading partner and some two-thirds of China's imports from Russia are oil or natural gas. This new deal only underscores this critical relationship.
It is an agreement that has been a long time in the making, with the Chinese hesitant about price. But of course the statistics tell only part of the story.
The deal comes at a time of growing tensions between Russia and the West, prompted in large part by the Ukraine crisis. And it is not just Ukraine: there are fundamental differences over Syria and about the whole direction in which President Vladimir Putin is taking his country.
Indeed, at times Mr Putin seems to be setting Russia up as an alternative pole in terms of what he appears to regard as the decadent values of the West.
Thus this deal between Russia's Gazprom and the China National Petroleum Corporation could symbolise an important moment of transition - when both in economic and geopolitical terms, Russia's gaze begins to look more towards the East rather than towards the West.
Russia's eastern turn, though, is not without its problems. For while Russia may regard itself as a "Eurasian" power in geographical terms, Beijing is clearly the rising player in the region. Russia's role as a major energy supplier - it also sells significant quantities of oil and gas to Japan and South Korea - gives it an important stake in the region.
But equally this could be looked at in a different way: a trend that emphasises the crucial role of energy exports in Russia's finances - a dependence that could easily become as much of a weakness as a strength. Indeed the length of time that it took for Moscow to reach this deal with Beijing may show where the real negotiating power lies.
At the strategic level, Russia seems to be reinforcing its military ties with Beijing. Important joint naval exercises are to be held this month. But given the myriad tensions in the region prompted by China's maritime build-up and its forceful pursuit of contested regional claims, a closer alliance with China may do Moscow few favours in terms of burnishing relations with other regional actors like, for example, Japan.
The timing of this deal inevitably reinforces its geopolitical significance but then it is still much too early to delineate the true consequences of the Ukraine crisis. For a start we do not know quite how this will end. Moscow may have pulled back from full-scale military intervention but it is hard to see any shift in Mr Putin's longer-term vision for a weakened Ukraine as a buffer between Russia and the West.
All sorts of claims are being made at the moment: that the post-Cold War era is over; that European countries will surely move to significantly reduce their dependence upon Russian energy; that Nato's core mission has been reaffirmed and that the alliance will thus be given a new lease of life. A shift in the focus of Russian policy eastwards may be a part of this.
All of these assertions could be true but it is still too early to say. Russia remains, in part, a European power, eager to safeguard the rights of Russian minorities in a variety of countries in what it used to regard as its "near abroad" or backyard. That, too, is probably not going to change.