BP appeals to US Supreme Court over Gulf oil payments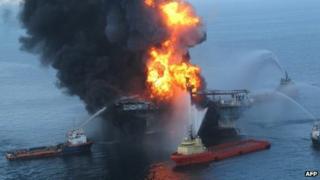 BP has appealed to the US Supreme Court over a ruling regarding how businesses must be compensated in the wake of the 2010 Gulf of Mexico oil disaster.
On Monday, a court re-affirmed the oil giant must pay some businesses economic damages whether or not they can prove the spill caused losses.
The ruling was seen as a blow to BP's attempt to limit the costs of settling claims.
BP initially estimated it would pay $7.8bn (£4.6bn) in business claims.
The explosion of the Deepwater Horizon rig, off the coast of Louisiana, killed 11 workers and caused the worst offshore oil spill in US history.
In the wake of that disaster, BP reached the terms of a settlement to compensate businesses.
But the oil company has argued that the terms are being misinterpreted and that it would face paying compensation for false claims.
"No company would agree to pay for losses that it did not cause, and BP certainly did not when it entered into this settlement," BP said in a statement.
BP has previously said that unwarranted claims include a company that had a fire unconnected to the oil spill, and another business that closed before the disaster.
However, in Monday's ruling, a judge said BP knew the terms of the settlement to which it had agreed.
Judge Leslie Southwick stated that a 2012 policy statement, issued by the court-appointed claims administrator and developed with "input and assent from BP," clearly spelled out the criteria for business compensation claims.
Mr Southwick said all parties agreed to the relevant criteria, before court approval of that 2012 settlement deal.