McDonald's vacates headquarters due to worker protests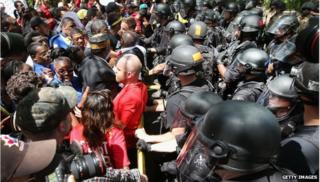 Thousands of protesters marched on a McDonald's campus that houses its Hamburger University training facility, demanding higher wages for workers.
The site of the planned protest was changed after McDonald's vacated its headquarters in the US state of Illinois after consulting with police.
Protesters want the fast food giant pay a minimum wage of $15 (£9) per hour, double the US federal minimum wage.
The company's annual shareholder meeting is scheduled for Thursday.
The closure affected one of five McDonald's corporate buildings and about 3,000 employees.
Ongoing effort
Protesters - which included a few hundred McDonald's workers - said they were seeking to highlight how low wages have exacerbated income inequality in the US.
The protest was planned before the annual shareholder meeting, where a vote is expected on executive pay.
Last year, chief executive Don Thompson was paid $9.5m.
Shareholders in Mexican fast-food chain Chipotle recently rejected an executive pay plan for the firm's co-chief executives, Steve Ells and Monty Moran, who earned $25.1m and $24.4m, respectively, last year.
Fast-food workers and labour organisers have been protesting since 2012 in an effort to boost wages and win worker rights, such as paid sick leave.
Last week, they organised a global walk out in more than 250 cities to highlight what they say are the difficulties facing low-paid restaurant employees.
US President Barack Obama has pushed Congress to raise the federal minimum wage to $10.10 per hour from $7.25, however he has faced stiff opposition from Republicans.
According to the Bureau of Labor Statistics, fast-food workers in the US earn about $8.83 per hour, or $18,400 per year if they are working a full 40-hour work week.