Why Royal Mail's share price is going down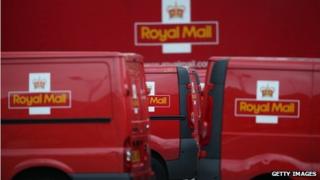 Royal Mail's share price - a roller coaster if ever there was one - is down today.
Superficially that might seem a little odd: profits are up 12%, parcel revenues are up 7% and letter volumes fell by less than expected. The results were not far off analysts' estimates of where they should be.
But the market was rattled this morning by the chief executive's blunt warning that competitive pressures were growing and that profit margins - that all important marker of a company's health - were coming under pressure. At 3pm the share price was down nearly 7%.
Although parcel revenues are up, the number of parcels being delivered has not moved and that has worried investors. Royal Mail's chief executive, Moya Greene, told me that it was because the business was now concentrating on delivering profitable parcels, not just any old parcels.
In the past, and bear with me here, Royal Mail would deliver everything from stuffed horses (seriously) to fridges and flat screen televisions.
Given that postal workers are not ideally suited to carrying such items to the front door, Royal Mail has removed itself from a number of delivery sectors and focused on simpler, easier to deliver items. Average revenue rates per parcel delivered have gone up by 8%.
'Negative development'
But although that may make sense in the long term, parcels is a volume business. Growth has all but disappeared. And with companies like Amazon starting their own seven day delivery service, the competitive threats are growing. At present, Amazon provides 6% of Royal Mail's parcels business.
Analysts at Espirito Santo Investment Bank are wise to the problems. "Royal Mail has reported full year results that were roughly in line with our forecasts but that show a sharp slowdown in parcel growth," they said today.
"Given that parcels are the major growth driver for the group, this is an extremely negative development."
Ms Greene is well aware of the issue. Yesterday, Royal Mail announced a limited Sunday service in the London area and that 100 sorting offices would be open on a Sunday so that customers could collect items. The concern from many is that the business, after decades of under-investment, is behind the curve.
On the universal service obligation - the guarantee of a next day postal service anywhere in the UK, six days a week - Royal Mail has said that competitors are cherry-picking lucrative city markets. TNT, for example, operates direct delivery services in London, Manchester and Liverpool.
That leaves Royal Mail to service the less economically viable rural delivery obligations. Sending a birthday card from Cornwall to the Shetland Islands is an expensive business.
Under strain
TNT has dismissed the allegations, saying its direct delivery business is tiny (about 100m items delivered) compared to Royal Mail's 14 billion items a year. But every new competitor, and TNT has rapid expansion plans, eats into that all important profit margin which maintains the universal service obligation.
It will not disappear, of course, but Royal Mail's ability to deliver it will come under increasing strain. It will be fascinating to see Royal Mail's presentation to Ofcom on the issue, which is expected in the next two weeks.
The company's share price fall shows a business now operating in a more normal market after the rapid, and frothy, rise following the part-privatisation last October. That is a good thing.
It also shows that the Royal Mail might have put the grim days of £1bn a year losses behind it (that was 2002). But delivering parcels and letters in a new digital age and an increasingly deregulated market is still a very tough prospect.