Thailand coup: Effect on the markets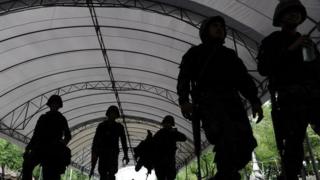 The minimal market reaction from Thailand's military coup is not what might be expected in a such a situation. Martial law usually make investors and businesses very nervous.
Yet, the Thai bhat has not moved by much versus the US dollar and the stock market is down some 2%. Asian markets have risen to about a five-month high despite the turmoil in Thailand. But, it is early days.
The paradoxical outcome is due in part to the frequency of coups in the country. This is the 12th coup d'état since the absolute monarchy was replaced in the 1930s, and there have been seven other attempts. In short, the military is a constant presence in Thailand.
A former central bank governor told me that when a coup happens, the civil servants pack up their offices and go home to await the announcement of the next government. It was his advice to avoid the streets where past coups have resulted in unrest and worse.
Worryingly, elections may not happen for another year - though there is pressure from the US and others for the democratic process to be restored quickly.
Unsurprisingly, some foreign investors have pulled their money out of the country, contributing to the prospect of a recession. The economy is already contracting after six months of political turmoil that culminated in Prime Minister Yingluck Shinawatra being ousted and martial law being imposed earlier this week.
At that time, the ratings agency Moody's warned of a negative impact. But another ratings agency - Fitch - did not view the sovereign's credit rating as negative since the situation may end the political stalemate. This latter view also explains part of the market reaction thus far. It is, nevertheless, a troubling position for a country to be in.
It is not the only impact. The important tourism industry, which accounts for nearly one tenth of GDP, will likely be affected. Travel advisories have been issued from neighbouring Singapore and Malaysia already.
Usurping the democratic process, no matter how frequently it has been done, won't inspire confidence over the longer term. Evidence from around the world suggests peace is key for economic growth.