Putin to cut Russian imports of Western goods with new fund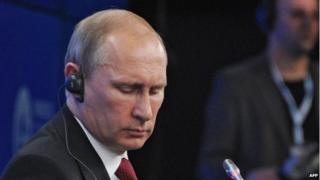 Russian President Vladimir Putin is to create a fund to invest in local production as he seeks to reduce his country's reliance on Western imports.
Mr Putin said in a speech that Russia would cut its dependence on energy exports and pledged to boost major domestic banks and industries.
Analysts said he was trying to persuade the international community that Russia's economy could survive alone.
Mr Putin also said he was optimistic about resolving the Ukraine crisis.
"Russia is trying to assert itself as an independent player," said Orysia Lutsevych, research fellow at Chatham House.
He added that President Putin "really wants to assert himself in the neighbourhood and he has to think about economic stability".
Investor flight
Russia imports a lot of technology, especially in oil and gas exploration, and relies on access to finance in the West, she said.
Russia's economy contracted in the first three months of this year.
The International Monetary Fund predicts that the next quarter's figures will also show economic contraction - meaning the country is in recession.
The IMF cut its 2014 growth forecast for Russia to 0.2% from 1.3% and said it expected the country's economy to grow by only 1% next year.
The fund also forecast that $100bn (£59bn) would leave the country this year.
Russia itself has expressed concerns about investors moving money out of the country amid tensions and sanctions over its intervention in Ukraine.
Its central bank said $64bn had left the country in the first quarter of the year - more than the capital flight registered for the whole of 2013.
The exit of investor money has partly been prompted by US and EU sanctions targeting a number of Russian companies and high-profile business figures, including those close to Mr Putin.
'American friends'
In his speech, at an economic forum in St. Petersburg, Mr Putin also accused the US of wanting to have an advantage when trading with the EU.
"Maybe our American friends - they are sophisticated guys - want to get a competitive advantage in their trade and economic relations over Europe," he said.
The sanctions may backfire on the West, said Mr Putin. "In the modern, interconnected world, economic sanctions as an instrument of political pressure can have a boomerang effect, and in the end they have an impact on the businesses and economies of the countries that initiated them."
The Kremlin would respect the outcome of the presidential election in Ukraine scheduled for 25 May, Mr Putin said.
At least seven people were killed in fighting between rebels and Ukrainian forces outside the eastern industrial area of Donetsk on Friday, a day after the deaths of 18 soldiers in the heaviest loss for the Ukraine military since the conflict began.