US wins WTO luxury car ruling against China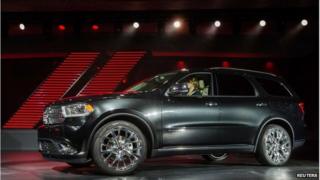 The US has won a World Trade Organisation (WTO) ruling against China in a dispute over tariffs on US luxury cars.
A WTO panel found no basis for duties that China imposed between 2011 and 2013.
The US described it as a "significant victory".
China began tariffs on saloons and off-road vehicles with an engine capacity of 2.5 litres or more in retaliation for US trade policies.
China argued when it introduced the charges that US carmakers, such as General Motors and Chrysler, had received government subsidies and flooded the Chinese market with the cars, which harmed China's own car industry.
'Clear message'
The US said China had imposed the duties without following the rules and filed the case with the WTO.
The rate was as high as 21.5%.
U.S. Trade Representative Michael Froman said $5bn (£3bn) of exports in 2013 had been taxed.
"The message is clear. China must follow the rules, just like other WTO members," he said.
US vehicle exports to China were worth $8.6bn in 2013, 48% more than a year earlier. It is the largest foreign market for US automakers after Canada.