Small retailers eyeing bright outlook overseas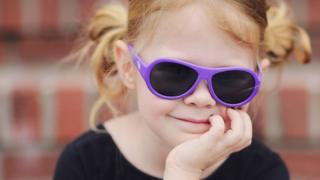 The founders of a new brand of children's sunglasses guessed their sales would soar across the US thanks to the glare of publicity provided by a celebrity TV endorsement.
The company in question is called Babiators, and the praise came back in 2012 from actor and comedian Nick Cannon, the husband of singer Mariah Carey.
Appearing on the popular Ellen DeGeneres Show, he said how much he liked his baby son's sunglasses.
The publicity, which came just a year after the Atlanta-based business was formed, sparked a stampede of customers and put Babiators firmly on the map in the US.
With its domestic sales having continued to grow strongly, the company, which now has 15 staff, has since expanded overseas.
But while Babiators enjoyed a dream start in its home market, how has it fared abroad? And what are the wider issues that small retailers have to face when seeking international sales?
'Could be fun'
Babiators was founded by two couples who had been friends since university, Ted and Molly Fienning, and Matthew and Carolyn Guard.
The inspiration for the product sprang from Mr Fienning's previous job as a fighter pilot for the US Marine Corps.
One time while Mrs Fienning was watching her husband and his colleagues land their planes at their base in South Carolina, she noticed that all the children in attendance were having to squint as they looked up at the sky.
The military had issued Aviator sunglasses to the adults watching their loved ones, but not to the boys and girls.
"The kids were kind of left out there in the sun," says Ms Fienning, 34.
She mentioned the children's predicament to her husband, who came up with the name, Babiators.
"Once we had the name, we thought, 'OK, this could be fun,'" she says.
Developing the idea with the Guards, they designed sunglasses which were made out of rubber instead of plastic, so as to be as durable and child-friendly as possible.
They started selling Babiators in March, 2011, for about $20 (£12) each.
'Brand unity'
Although the Babiators' website allows customers to buy the sunglasses directly, the company realised that most people, when buying clothes or clothing accessories, like to try them on first.
So after some speedy international expansion, the sunglasses are now available in 45 countries, via almost 2,000 retailers.
This swift overseas growth has posed some obstacles for the company.
"One of the major challenges is brand unity," says Ms Fienning. "[Of] wanting to make sure that the person who signs on to exclusive rights for Babiators in another country gets your brand, and will sell it well."
But despite these worries, with Babiators' total sales set to hit $4m (£2.4m) this year, Matthew Guard says the brand's strong American identity has been a big help overseas.
"The fact that we have a very American brand is actually a real asset," says Mr Guard, 34. "The hard part for many entrepreneurs is finding an identity that works [abroad]."
'Good feel'
For UK-based ladies' shoes designer Sarah Watkinson-Yull, she has worked hard to ensure that her company's expansion into mainland Europe has increased the strength of her brand, rather than damage it in any way.
The 24-year-old is the owner of Oxfordshire-based Yull, which she started in 2011 while still at university.
Yull now sells 600 pairs of shoes in Europe a year, via independent shops predominantly in Italy, France and Belgium.
While the stores are supplied by agents in each country, Ms Watkinson-Yull personally checks and approves which shops can stock her shoes.
"Thanks to social media and the internet, I can have a look at the shops, and generally get a good feel for them," she says.
"I don't simply sell to a wholesaler, and let him or her sell on to anyone... the damage to the brand could be horrendous."
But whatever the plan of action a small retailer has in order to succeed in overseas markets, analyst Candace Corlett, president of New York-based WSL Strategic Retail, says that carrying out significant research is vital.
She advises such firms that they look closely at the target markets, with the help of local consultants and through detailed preparation.
"Entrepreneurs need to do what I'm not sure comes naturally to them," she says. "They need to pause and study the culture."
With so many potential pitfalls to overseas expansion, some small retailers have decided to instead stick to their home market, at least for now.
One such business is Atlanta-based Hide-ees, which makes cotton shorts for girls to wear under dresses and skirts, to prevent them from accidently showing their underpants.
Its products are currently available in 500 retailers across the US, and the company has decided to focus solely on growing its sales within the states, at least for the foreseeable future. Even its online sales are only open to people based within the US.
Back at Babiators, the founders add that their overseas sales are greatly helped by pictures of children wearing their sunglasses, and that such images help to overcome any language barriers.
"A cute kid is a cute kid, no matter where he or she is," says Carolyn Guard, 32.