Sainsbury's deliveries hit by computer fault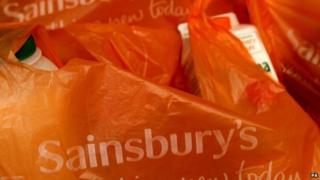 Some home deliveries of groceries from Sainsbury's have been delayed after the supermarket giant suffered from computer problems.
Some online shoppers have reported their order failing to arrive in their allotted time slots, followed by long waits on the phone for information.
A computer problem caused the delays and some customers have been offered compensation.
Sainsbury's has apologised and says the problem has been rectified.
"A small number of online orders were not delivered to customers today. Naturally, we are apologising to the individuals concerned," a spokesman for the supermarket said.
"Everything is now back to normal so customers can place orders as usual."
The glitch, which affected customers in the South East of England, comes ahead of a bank holiday weekend in the UK, when many will be hosting family and friends.
Earlier this month, Sainsbury's reported a rise in pre-tax profit for the year to 15 March by 16.3% to £898m.
However, it warned of "challenging" times ahead in the food retail sector.
The latest supermarket industry figures from market analysts Kantar Worldpanel, for the 12 weeks to 27 April showed that Sainsbury's market share fell 0.3% to 16.6% compared with a year earlier.