Egypt's elections and its faltering economy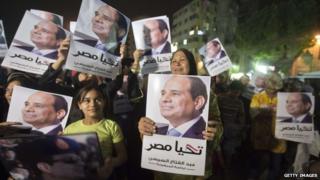 Abdul Fattah al-Sisi is widely expected to win Egypt's presidential election. The former Deputy Prime Minister, Minister of Defence, and Commander-in-Chief of Egypt's armed forces, has stored away his army uniform and is seeking election as a civilian.
He has a faltering economy to contend with.
For instance, Egypt's important tourism industry accounts for over 11% of GDP and one in eight jobs. Last year, there were five million fewer visitors to Egypt than in 2010, falling from 14.7 million to 9.5 million.
Over the same period, revenues from tourism have more than halved from $12.5bn (£7.4bn) to $5.8bn. The Tourism Minister described 2013 as the worst in modern history.
That is not the only challenge facing Egypt's new president.
The public finances are in dire straits. In the last financial year, the budget deficit was 14% of gross domestic product (GDP) and public debt exceeded 100% of GDP.
The support of its Gulf allies means it has managed to stave off default.
Saudi Arabia, UAE, and Kuwait have backed the interim government to the tune of $16bn. These loans have come with no conditions requiring structural reform.
Dire finances
Before his ousting, Mohammed Morsi shied away from a $4.8bn loan from the International Monetary Fund (IMF) which would have unlocked a further $12bn in bilateral loans.
These would have been tied to an austerity package including reducing energy subsidies, cutting down the size of the public sector workforce and introducing a sales tax.
Mr Sisi though talks openly about the need for austerity, frequently mentioning the need for Egyptians 'to give a month's salary'.
Some of the IMF's prescriptions, thought to be too painful to bear by the Muslim Brotherhood, could be introduced.
An eye-watering half of the budget is spent on debt repayments and subsidies on fuel, food and fertiliser.
Inflation is already running at double digits, partly because the weakness of the Egyptian pound has pushed up import prices. If subsidies are cut back, prices are expected to rise even more.
A quarter of the budget is accounted for by Egypt's 6.5 million public sector workers. Unemployment already at 13% is likely to increase further if this is cut back.
There are currently over eight million Egyptians living outside of the country, usually for work reasons.
Remittances from overseas workers boosted household incomes by $17bn last year. It is thought the Egyptian taxman will soon be taking a share.
Role of the military
Also, many believe that the military will still play a large role in running the country.
It is difficult to say just how much sway the armed forces exert on the economy. Its budgets are secret and not subject to oversight or audit.
The military is involved in numerous enterprises and frequently wins tenders for construction projects. In March, the army signed a $40bn deal with the UAE construction company Arabtec to build one million affordable homes in Egypt. The land is being provided by the Ministry of Defence.
Depending on who you talk to, the military accounts for between 1% and 40% of economic activity in Egypt.
For instance, the Suez Canal is a military zone and a big money-maker bringing in over $5bn a year in revenue. The Suez Canal Development Project plans to develop further by building four new ports and a new industrial zone.
Rise in poverty
According to CAPMAS, the official statistical agency in Egypt, the proportion of the population living under the poverty line increased from 17% in 2000 to 26% in 2013.
A further 24% of the population is only just above the line and could be dragged below it by rising prices and slowing incomes. In other words, half of the population is at risk.
Egypt has a young population with over 60% under the age of 30. The youth were prominent in the January 2011 Tahrir Square uprising leading to the overthrow of Hosni Mubarak.
The slogan 'bread, freedom and social justice' was a cry for a better political and economic future.
Now, three years on and many are still waiting for an improvement in their living standards.