Lloyds Bank announces TSB flotation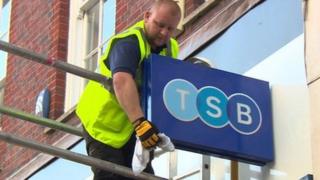 Lloyds has announced plans to float a 25% stake in its TSB business on the stock market, with small investors being offered free shares in the bank.
Investors will get one free share for every 20 shares they buy (up to the value of £2,000) and hold for a period of one year after the flotation.
The share sale is set to take place next month.
TSB is being floated to meet EU rules regarding state aid. Lloyds was bailed out by the UK taxpayer in 2008.
TSB has 631 branches and 4.5 million retail customers, making it the seventh largest retail bank in the UK.
The Co-operative Bank was set to buy TSB, but the planned deal collapsed after it emerged that the Co-op Bank had a £1.5bn hole in its finances.
---
Analysis
Kamal Ahmed, BBC Business editor
You wait for one challenger bank to come along and suddenly you are swatting them away like flies.
After government and opposition demands that there should be more banks on the High Street, TSB will join Metro Bank and Virgin Money as players in the retail market. Royal Bank of Scotland's Williams and Glyn branch network with 1.7 million customers is also being prepared for European Commission-enforced independence.
TSB will need to show that this competition means something for customers. Chasing market share with "innovative" products often leads to problems as banks have found with payment protection insurance. "Packaged accounts" - which come complete with insurance products and special offers - could be next.
There is something of a contradiction here. The government wants boring "vanilla" banks which don't do anything too racy. It also wants a competitive market. The two tend to pull in opposite directions.
---
'Simple and clean'
Antonio Horta-Osorio, Lloyds Banking Group chief executive, said: "The decision to proceed with an initial public offering of TSB is an important further step for the group as we act to meet our commitments to the European Commission.
"TSB has a national network of branches, a strong balance sheet and significant economic protection against legacy issues," he added.
Lloyds must sell its remaining stake in TSB before the end of 2015.
Paul Pester, chief executive of TSB, told investors that TSB had not been affected by banking issues such as the mis-selling of payment protection insurance.
"We have a low-risk, simple and clean balance sheet," he said.
The bank is opening four to five times as many current accounts under TSB than under Lloyds, he added.
Banking analyst Chris Skinner told the BBC that TSB - which is expected to be valued at about £1.5bn - was "really a new brand but on an old horse".
The rationale behind spinning-off TSB rather than selling off its assets is to create a "challenger bank" to make UK retail banking more competitive, Mr Skinner said.
"There are new challenger banks - there's Aldermore, Shawbrook, Handelsbanken, Metro, Tesco - there are a lot of banks actually launched into the UK economy.
"Over time we'll end up probably again with just a few that actually succeed, and I'm waiting to see which are the few that succeed," he added.
Investor fatigue?
Gemma Godfrey, head of investment strategy at Brooks Macdonald Asset Management, told the BBC that a slew of stock market listings this year had sapped investors' appetite for more.
"The problem is to do with timing," she said. "We've gone from a famine to a feast, and investors are feeling full."
A number of flotations since the beginning of the year have seen shares now being traded for less than their initial offer value.
Last week, fashion chain Fat Face abandoned its plans to float its shares because of the market conditions.