Aston Martin to create 250 jobs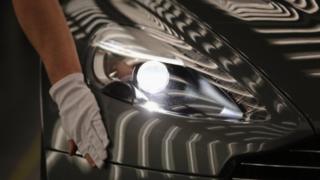 Luxury car maker Aston Martin is to create 250 jobs and extend its UK manufacturing facilities, the firm has said.
The new engineering, manufacturing and commercial jobs will be created over the next few months.
Aston Martin will also invest £20m to extend its manufacturing facility at Gaydon in Warwickshire.
The investment is part of £500m the company is putting into future sports car ranges.
The company said it wants to substantially increase its workforce and manufacturing capabilities.
It will extend its factory to build new chassis, house a facility to build prototypes, new offices, and a bigger parts storage area.
In addition, Aston Martin has started a recruitment drive to bulk up its workforce at Gaydon.
Aston Martin chief financial officer, Hanno Kirner said: "The investment in our Gaydon HQ forms part of our long-term strategy which is focused around being the number one British luxury sports car brand."