Two new millionaires a month from August, says NS&I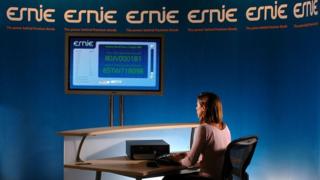 A second £1m premium bond jackpot is to be launched from August, National Savings and Investments (NS&I) has confirmed.
As a result, two people will become millionaires every month, instead of the current single winner.
The move was first announced by the Chancellor, George Osborne, in his March budget.
From Sunday 1 June, bondholders will also be able to own a maximum of £40,000, up from £30,000 now.
From next year, the maximum premium bond holding will be increased further, to £50,000.
"Raising the maximum amount that can be invested is good news for customers, because the more they invest, the greater their chance of winning a tax-free prize," said Julian Hynd, the retail director of NS&I.
A second £1m jackpot was previously introduced in August 2005, but was discontinued three and a half years later, in April 2009.
Increase
More than 21 million people own premium bonds, while 600,000 hold the maximum of £30,000.
The average return on premium bonds - ie, the amount paid out in prize money - is 1.3%, which is tax-free.
This compares with similar returns on easy access savings accounts.
The Post Office, for example, pays 1.3% to savers, although that includes a bonus rate in the first year.
Inflation, as measured by CPI, is currently 1.8%.
From July, savers will also be able to increase the amount they put into Individual Savings Accounts (Isas).
The annual limit for both cash and stocks-and-shares Isas will increase to £15,000 a year.