France in 14bn-euro tax black hole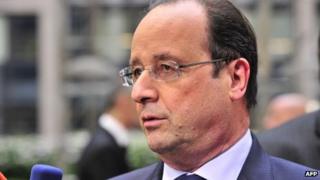 The French government faces a 14bn-euro black hole in its public finances after overestimating tax income for the last financial year.
French President Francois Hollande has raised income tax, VAT and corporation tax since he was elected two years ago.
The Court of Auditors said receipts from all three taxes amounted to an extra 16bn euros in 2013.
That was a little more than half the government's forecast of 30bn euros of extra tax income.
The Court of Auditors, which oversees the government's accounts, said the Elysee Palace's forecasts of tax revenue in 2013 were so wildly inaccurate that they cast doubt on its forecasts for this year.
It added the forecasts were overly optimistic and based on inaccurate projections.
The figures come a week after French Prime Minister Manuel Valls, who was appointed in March following the poor showing of Mr Hollande's Socialists in municipal elections, appeared to criticise the president's tax policy by saying that "too much tax kills tax".
Inconsistent growth
Opinion polls put Mr Hollande's approval rating among voters consistently below 20% and critics say his tax policies have hurt France's chance of a sustained economic recovery.
Despite being elected on a wave of anti-austerity sentiment, Mr Hollande has had to implement a series of spending cuts, alongside a number of tax rises.
Meanwhile, economic growth has been inconsistent and the unemployment rate hit a record high of 11% at the end of 2013.
The French economy saw zero growth in the first three months of 2014, compared with 0.2% growth three months earlier.
The income tax rate for France's wealthiest citizens was raised last year - to 75% for salaries exceeding 1m euros - prompting some French citizens, including the actor Gerard Depardieu, to leave the country and seek citizenship elsewhere in Europe.
Mr Hollande has already said he will not slow the pace of deficit reduction, adding France "cannot live with such heavy debt".