Ronaldo is 'world's most marketable footballer'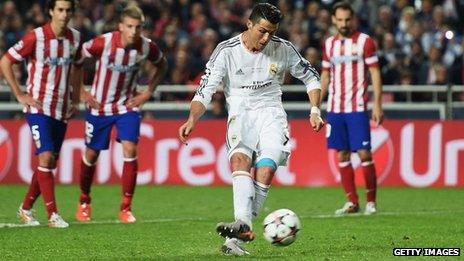 Portugal and Real Madrid's Cristiano Ronaldo has been named the world's most marketable footballer, according to sports marketing experts Repucom.
Argentina and Barcelona's Lionel Messi is second, with a surprise entry from fellow Barca star, Spain's Gerard Piqué, completing the top three.
Ronaldo won his second FIFA Ballon d'Or global player of the year, and Champions League winners medal in 2014.
Repucom said he was the most well-known and "trend-setting" footballer today.
Globally, 83.9% of people know of the Portuguese star and in markets such as Italy, Spain, Germany, Turkey and Argentina, this figure is above 95%.
Four-time Ballon d'Or winner Lionel Messi - the world's best-paid player - scored highly for his endorsement potential and likeability.
"With just over two weeks to go before the 2014 FIFA World Cup kicks off, the world's gaze is firmly on the competing teams and players," said Paul Smith, founder and boss of Repucom.
"The World Cup is the most-watched sporting event in the world and as such, big brands, official partners or otherwise, will, and are, using its global appeal to drive sales.
"Ronaldo is an endorser's dream. His value is as important to the teams he plays for as they are for the companies that endorse him."
He said global awareness of Ronaldo was what drove his commercial power and with more than 82 million Facebook likes and 26 million Twitter followers, "he is also one of the most liked in the business".
Related Internet Links
The BBC is not responsible for the content of external sites.