Reliance Industries to acquire Network18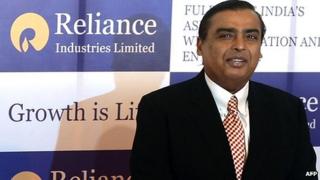 Reliance Industries, one the biggest corporate houses in India, has said it will acquire a majority stake in Network18 and its subsidiary TV18.
Network18 is one of India's largest broadcasters; it operates news and entertainment channels and owns e-commerce businesses.
Reliance said its board had approved a funding of 40bn rupees ($680m; £405m) for the deal.
Once completed, it will be one of the biggest deals in India's media sector.
Reliance - a dominant player in the oil and gas sector - has been looking to diversify its business.
It won a licence to operate a nationwide 4G broadband service in 2010.
The firm said the acquisition of Network18 would help it stand out in the sector "by providing a unique amalgamation at the intersect of telecom, web and digital commerce via a suite of premier digital properties".
Reliance said it would own a 78% stake in Network18 and 9% of TV18 after the deal was completed. It had invested an undisclosed amount in the two firms in 2012.
'High potential'
India's telecom market has grown rapidly over the past few years.
Analysts said that given the vast scale of the country and its huge population, the sector is poised for further growth in the coming years.
"The broadband business, if developed right, has a very high potential of success and Reliance understands that," said Deven Choksey, chief executive of brokerage KR Choksey Shares & Securities in Mumbai.
"The media properties of Network18 are a natural fit and have the potential to make them a differentiated content provider."
Network18 operates various news channels in the country including CNN-IBN and IBN7 as well as the entertainment channel Colors.
Its digital properties include news websites such as Moneycontrol.com and Firstpost.com and e-commerce platforms like Bookmyshow.com.