Bank lending to small business shrinks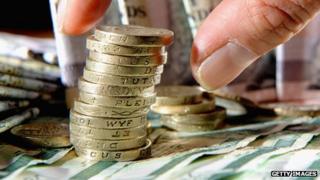 The Bank of England says lending to small and medium sized businesses (SME) under the government's Funding for Lending (FLS) scheme fell this year.
The FLS is meant to help banks release loans cheaply, mainly to SMEs, who had reported difficulty in securing funds.
The Bank said net lending, which takes account of repaid loans, fell by £2.7bn in the first quarter of 2014, with SMEs seeing lending fall by £723m.
It indicates firms are keener to pay back than build up debt.
However, the British Chambers of Commerce (BCC) says many businesses find banks will not lend to them.
John Longworth, the director general of the BCC said: "Although more established firms have little difficulty in accessing the finance they need, the litmus test for the Funding for Lending scheme has always been whether young and fast-growing businesses are able to get the finance they need to expand and drive the recovery, and unfortunately many of these firms remain frozen out of the market."
But the Forum of Private Business (FPB) says firms are not eager to borrow.
Phil Orford, the FPB's chief executive, said: "The figures replicate the findings of the most recent SME Finance Monitor, which continues to show a subdued appetite for lending.
"Banks are keen to stress they have money to lend and the Forum of Private Business continues to urge businesses that money is there to borrow at present, either through the main or challenger banks, or through alternative sources, some of which are highlighted on the excellent Alternative Business Finance website."
Cash rising
The banks' industry body, the BBA, published its own figures, which showed SMEs repaid £5.2bn of existing loans in the first three months of the year, in line with the same amount a year ago.
They also showed that cash held by businesses continued to rise.
At the end of March, SMEs were holding £138.1bn in cash, a rise of 9% on the same period last year.
The BBA's chief economist Richard Woolhouse said that overall new borrowing was £6.8bn, 10% higher than last year. It said there was little evidence businesses had trouble finding bank finance, as an independent monitor of SMEs found fewer than one in 10 businesses said they viewed access to finance as a major barrier to growth and success.