Southwest Airlines fined for deceptive advertising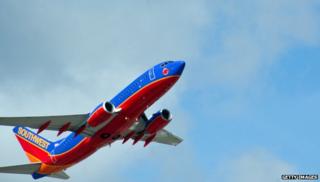 Budget airline Southwest has been fined $200,000 (£120,000) by US regulators for deceptive TV advertising.
The US Department of Transportation (DOT) said the airline advertised $59 flights from Atlanta to New York, Chicago and Los Angeles in a series of TV advertisements in October 2013.
However, the DOT found no seats were actually made available for purchase at that price.
Southwest said the ads were a mistake involving flawed advertising copy.
"Unfortunately, the audio portion of the TV advertisement incorrectly stated three cities that were never intended to be a part of the $59 sale," a Southwest spokesperson told the BBC.
"As soon as we became aware of our mistake, we immediately pulled all incorrect advertisements off the air."
Southwest was fined $100,000 for violating rules against deceptive advertising, and an additional $100,000 for violating the rule after being found guilty of an earlier infraction in 2012.
"Consumers have rights, and DOT will continue to take enforcement action against carriers and ticket agents when our price advertising rules are violated," said US Transportation Secretary Anthony Foxx in a statement announcing the fine.