Superheroes and the billion dollar global box office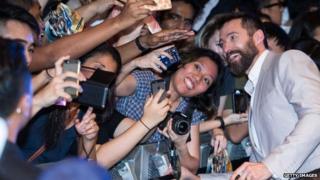 The latest film in the X-Men franchise, 'Days of Future Past,' opened in cinemas around the world this past weekend.
Box office takings have already hit $350m (£209m), far exceeding the production budget of $200m.
It is likely the studio's profits will eventually run to hundreds of millions of dollars.
This level of success is fairly typical. In fact, when you look at the box office take of superhero movies in the U.S. on their opening weekend, the latest X-Men film does not even make it into the top 10.
Superhero films have always been popular with cinema-goers since Christopher Reeve first played Superman in 1978. Three sequels were to follow over the next decade.
In the 1990s, it was Batman's turn with Michael Keaton, Val Kilmer and George Clooney playing the Caped Crusader in four films.
However, since the turn of the new millennium, there has been an explosion in the number of films.
According to Box Office Mojo, there have been 61 movie releases in the superhero genre since the first X-Men film back in 2000. On average, there are a half dozen new films each year.
Box office mojo
So why are there so many superhero films? Well, the simple answer is that they sell cinema tickets.
To date, there are four films that have grossed more than $1 billion at the global box office - The Avengers ($1.5bn), Iron Man 3 ($1.2bn), The Dark Knight Rises ($1.1bn) and The Dark Knight ($1bn).
If box office receipts are adjusted to reflect cinema ticket prices in 2013, then the main superhero franchises have made close to $25bn thus far.
Even when the films do poorly, they are rarely disastrous. The 2004 film Catwoman starring Halle Berry was panned by critics.
Despite this, the box office take was only $12m less than the $100m production budget.
Others include Green Lantern in 2011 and Elektra in 2005. However, when you compare box office takings with production budgets, both films actually made a small profit.
The main reason for the surge in box office receipts is the popularity of the superhero genre around the world.
It used to be the case that the US box office was the be all and end all for commercial success. But, for recent superhero movies, the US typically accounts for no more than $4 out of every $10 made.
For example, this year Captain America (The Winter Soldier) and The Amazing Spiderman 2 were big hits in China's massive box office.
This means that films which would just about break even on the basis of US receipts can become successful when earnings from around the world are added up.
DC Comics versus Marvel
Before superheroes were movie stars, they were primarily comic book characters with most falling into one of two stables.
DC Comics, now part of Warner Brothers, has relied on its two main stars Superman and Batman for box office success.
After the not stellar Superman 4 in 1987, the franchise was brought back 20 years later in the 2006 film Superman Returns and last year's Man of Steel.
Both did well, but it was Christopher Nolan's Dark Knight trilogy, staring Christian Bale as Batman, that has proved to be by far the most lucrative.
Other forays into the superhero genre, including Green Lantern, Catwoman, and Jonah Hex have not worked out quite so well.
It is probably not surprising that the next planned release will be a joint Batman and Superman film.
Marvel, on the other hand, has a superhero squad that includes Spiderman, Hulk, Fantastic Four, X-men, Avengers, Thor, Captain America and Iron Man among its stars.
It has largely fuelled the boom in superhero films.
Since 2000, there have been five Spiderman films with two more in the pipeline, seven X-men films with three more planned, three Iron Man films, two Fantastic Four films with two more planned, two Captain America films with one more in production, one Thor, and one Avengers with another to be released later this year.
Its cast of arguably lesser known stars has grossed more than twice the combined receipts of the Batman and Superman franchises.
The $4bn paid by Disney to acquire Marvel Entertainment in 2009 now looks like a bargain, even though Spiderman is currently licensed to Sony Pictures and X-Men to Fox.
Why are superheroes so popular?
So why has there been a surge in the popularity of superhero movie films?
Advances in technology have certainly helped. The older movies struggled to recreate the comic book strip on the big screen in a realistic way. The superheroes didn't quite look the part either, as they were mostly grown men in spandex costumes.
These problems have been solved by modern day CGI.
Success of course breeds success. Production budgets are continuously upped which not only allows for more CGI, but also brings in the bigger name actors, directors and producers into the genre.
Where superhero movies have been particularly successful is in their wide audience appeal. Most are rated PG-13 so have large viewership.
Many adults are drawn in by their memories of the comic books, but the films are still very popular with those that didn't.
The superhero bubble does not look like bursting soon. And with more films in the pipeline, Spiderman, Captain America, the X-Men, the Avengers, the Fantastic Four, Batman and Superman will be busy for at least the next couple of years saving the world time and again.
For more on the business of movie franchises, catch Talking Business with Linda Yueh.