Ukraine makes part payment on Russian gas debt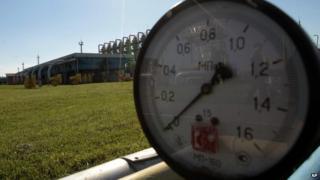 Ukraine has paid part of its gas debt to Russia after talks between both sides and the European Union, says EU Energy Commissioner Guenther Oettinger.
Reports suggest Ukraine has paid Gazprom $786m (£469m; 576m euros) of the $3.5bn Russia says it is owed.
Russia announced negotiations would only continue once the money had arrived in Gazprom's account on Monday.
Gazprom recently increased the price it charges Ukraine by 80%, leading to a stand-off between the two.
Earlier this month, Russian President Vladimir Putin wrote an open letter demanding Ukraine pay for its gas in advance, starting from 1 June. Gazprom had previously said it may stop gas shipments to Ukraine unless the country paid in advance.
'No final deal'
Following talks on Friday in Berlin to break the deadlock, Mr Oettinger said: "We don't have a final deal yet, but we have made progress".
Russia said it would wait for the money to arrive before deciding what to do next.
"Our Ukrainian partners said that they have transferred a certain part of the amount," said Prime Minister Dmitry Medvedev.
"But the obligation is considered fulfilled - albeit partially - not at the moment of sending the money, but the moment it comes into the creditors account. That is into the account of the gas supplier Gazprom."
Ukraine has refused to pay the full amount in protest at the increase in gas prices.
Gazprom now charges Ukraine $485.50 per 1,000 cubic metres, against the old price of $268. At the new price, Ukraine is paying more for Russian gas than any other European country.
Almost 15% of gas used in Europe comes from Russia via Ukraine, which is why EU members are taking a particularly close interest in the stand-off, observers say.