IATA: Airline profits in 2014 to be hit by China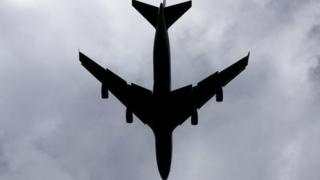 The global airline industry's profit forecast for this year has been cut amid fears over China's economic growth, the International Air Transport Association (IATA) said.
The trade body predicts airlines will make $18bn (£10.7bn) in profit in 2014, lower than its $18.7bn March forecast.
It blamed concerns over the Chinese economy's performance and a slowdown in world trade for the downgrade.
The industry faced "strong headwinds", IATA director general Tony Tyler said.
He said rising infrastructure costs, inefficiencies in air traffic management, a heavy tax burden and costly regulation were all expected to weigh on the airline industry this year.
IATA predicted that total revenues for airlines would reach $746bn in 2014.
"The brutal economic reality is we will earn an average net margin of just 2.4%," added Mr Tyler.
This would amount to less than $6 per passenger, he said.
IATA represents 240 airlines, which cover 84% of total air traffic.