Australia beats growth forecast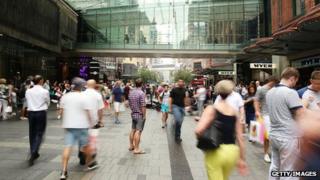 Australia's economy grew more than forecast in the first three months of the year, boosted by a rise in exports and domestic consumption.
Growth was 1.1% in the January-to-March period, from the previous quarter. Most analysts had forecast growth of 0.9%.
The annual growth rate was 3.5% - the highest in nearly two years.
However, some analysts said the figures indicated that Australia's economy was still too heavily reliant on the mining sector - which has been a concern.
Mining accounted for around 80% of growth in the quarter, according to the figures by the Australian Bureau of Statistics.
"The bulk of this better-than-expected growth has come from net trade - with very strong exports over the quarter and that maps back to the resource sector with very strong shipments of iron ore and coal," said Tom Kennedy, an economist with JP Morgan.
"When you look at growth generated domestically, that actually contracted in the first quarter.
"And that of course sits with the theme that we have seen over the past few months of a pretty soft labour market, and a lot of consumer caution as well as a central bank that's keeping things pretty accommodating at the moment," he added.
On Tuesday, the Reserve Bank of Australia left its interest rate unchanged at a record low of 2.5%.
Slight rebalancing?
The mining sector has been the biggest driver of Australian growth in recent years.
But as growth in key markets such as China slows - there have been concerns that demand for Australian resources may decline and hurt its economy.
As a result, there have been calls for policymakers to try and spur growth in other areas of the economy.
Among the steps that the authorities have taken is to lower borrowing costs for consumers and businesses.
The Australian central bank has kept its key interest rate at 2.5% for 10 months in a row.
Some analysts said that there were indications that other sectors of the economy were beginning to pick up.
"The transition from mining to other growth drivers is clearly underway, a lot of housing investment, firmer consumer spending, and the strong pick up in exports," said Michael Workman, a senior economist with Commonwealth Bank of Australia.
However, they warned that domestic consumption may be hurt by the tax increases and spending cuts announced in the budget last month.
"There are some risks to the outlook because of the federal budget outcome on consumer spending and consumers are feeling more pessimistic on the outlook," said Besa Deda, chief economist at St George Bank.
The government forecasts the Australian economy will grow by 2.5% this year.