Tesco reports sharp fall in sales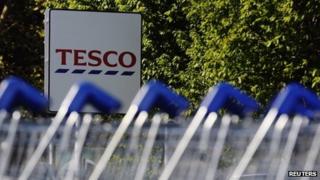 Tesco has reported a third consecutive quarter of falling sales as the UK's largest supermarket chain faces increasing competition from rivals.
For the three months to 24 May, the supermarket said like-for-like UK sales including VAT and excluding petrol fell by 3.7%.
Chief executive Philip Clarke said trading would remain challenging "throughout the coming quarters".
Tesco reported a 6% fall in annual profits in April.
The BBC's business editor Kamal Ahmed says that internally, Tesco has admitted the fall in sales is its worst performance for 20 years.
Tesco has faced intense competition from discount rivals including Aldi and Lidl as well as from more upmarket retailers such as Waitrose.
Industry figures continue to show the UK's largest supermarket suffering a decline in its share of the grocery market.
On Tuesday, data from grocery market analysts Kantar Worldpanel showed Tesco's market share declined to 29% in the three months to 25 May from 30.5% a year earlier, while sales fell 3.1%.
Tesco, along with Asda, Morrisons and Sainsbury's, has responded to the threat from discount grocers by lowering prices on essential items including bread, milk and eggs. Tesco said sales volumes of these essentials had risen 28% in the quarter.
It has also launched a programme of store revamps, which will see 650 stores across the UK upgraded in the next year.
Revival
Mr Clarke said: "Our accelerated plans are making a real difference for customers and we are more competitive than we have been for many years."
But he warned that sales were set to continue to suffer.
Mr Clarke added: "We are pleased by the early response to our accelerated efforts to deliver the most compelling offer for customers.
"We expect this acceleration to continue to impact our headline performance throughout the coming quarters and for trading conditions to remain challenging for the UK grocery market as a whole."
Richard Hunter, head of equities at Hargreaves Lansdown Stockbrokers said investors "would need to ponder whether Tesco is a company showing glimpses of revival given its turnaround plan, or whether it is past its sell-by date."
He added: "The wider ferocity of competition is making the implementation of the plan more difficult to achieve, although the company is trying to position itself within the three largest requirements of the supermarket sector at present, in the form of price, online and convenience stores."
Shares in the supermarket were 1%, or 3.5p, higher to 300.55 in early trading on the London Stock Exchange.
Tesco's international business recorded a 2.2% fall in like-for-like sales, including VAT and excluding petrol. Within those figures, like-for-like sales fell 1% across the supermarket's European operations and 3.2% in Asia.
In April, Tesco reported a 6% fall in group trading annual profit to £3.3bn. It was the second year in which the supermarket reported falling profits.
Tesco also confirmed the resignation of its finance director, Laurie McIlwee, after 15 years with the company, following what was believed to have been unrest among investors.