UK services sector expands by more than expected in May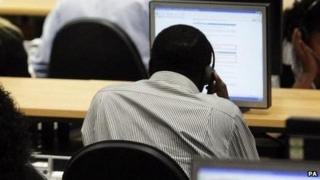 The UK's dominant services sector grew at a faster rate than expected in May, while employment in the sector stayed at a 17-year high recorded in April, a survey has shown.
The Markit/CIPS services purchasing managers' index (PMI) eased slightly to 58.6 in May from 58.7 a month earlier.
But that was still well above the 50 mark that separates growth from contraction.
Markit said the economy was on course to grow by 0.8% in the second quarter.
That would push the economy past its previous 2008 peak.
The PMI data comes ahead of the monthly meeting of the Bank of England's interest rate setting body, the Monetary Policy Committee (MPC), on Thursday.
Markit chief economist Chris Williamson suggested further strong economic data would increase pressure on the Bank to begin to raise interest rates from their current historic low of 0.5%.
"With every strong PMI reading, the more lively the discussion will become among the Bank of England's Monetary Policy Committee that a pre-emptive early hike in interest rates is warranted," Mr Williamson said.
An increase in interest rates is not expected until 2015, but some economists see a growing chance of a move in late 2014.
The UK economy grew at its fastest pace in more than six years in the first quarter and is expected to be among the fastest-growing Western economies in 2014.
Forecasts suggest the economy will expand by about 3% in the year.
David Tinsley, UK economist at BNP Paribas, said he expected the economy to have grown by as much as 1% in the second quarter.
He added if that proved to be the case, August's meeting of the MPC "may be the first where we see a split vote, with some members voting for a hike [in interest rates]".