Alibaba buys half of Guangzhou Evergrande football club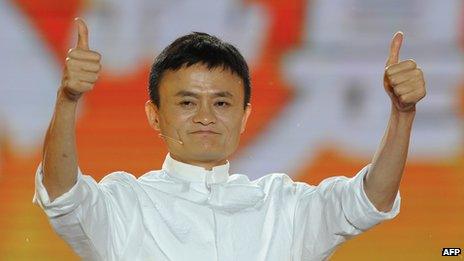 China's biggest e-commerce firm Alibaba has bought a 50% stake in Guangzhou Evergrande Football Club for a reported 1.2 billion yuan ($192m; £114m).
Guangzhou Evergrande is one of China's most successful football clubs.
It was the first Chinese team to win the Asian Football Confederation Champions League last year.
Alibaba's purchase comes in the run up to its highly-anticipated US share sale, and marks the firm's latest attempt to diversify its business.
Billionaire founder Jack Ma has made several acquisitions ahead of the internet giant's initial public offering, which many predict will become the world's largest tech listing.
Earlier this year, Alibaba bought a stake in Chinese online video company Youku Tudou and has started offering videogames on its mobile applications.
"We're not investing in football, we're investing in entertainment," Mr Ma told a news conference on Thursday. "Alibaba's future strategies are health and entertainment."
Guangzhou Evergrande is led by former Italian national team coach Marcello Lippi and has won China's Super League title every year since 2011.
It also finished fourth in the 2013 Fifa Club World Cup.
Prior to its deal with Alibaba, the club was fully-owned by the Evergrande Real Estate Group, one of Hong Kong's biggest property developers.
Evergrande chairman Xu Jiayin told a news conference the firm planned to issue new shares and seek another 20 investors for the club.
Shares of Evergrande Real Estate Group rose by more than 3% in Hong Kong trade on Thursday following the announcement.