TSB boss defends potential £1.6m pay package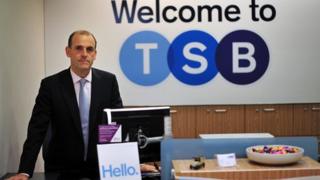 The boss of the new High Street Bank TSB has defended his own salary, after announcing a new "fair and simple" approach to bonuses.
TSB - of which 25% is being floated on the stock market this month - said bonuses for all 8,600 staff will be up to 10% of their salaries.
Outstanding performers may be awarded up to 15%, said the Bank.
But under the new rules, TSB's chief executive, Paul Pester, will still be able to earn more than £1.6m.
That is because of an additional reward scheme for executives, that allows them to double their basic pay.
As a result, however, the bank will conform to the new EU cap on bonuses, which came into force earlier this year.
The EU rules allow bonuses to be as large again as basic pay. If shareholders agree, bonus payments can amount to double regular pay.
Other banks, including HSBC, Barclays and Lloyds, have side-stepped the cap, by paying bonuses in shares instead of cash.
John Lewis
Paul Pester's base salary, including pension benefits, will be £877,500.
If his performance is deemed outstanding, he will be able to earn a similar amount in bonuses, making a total possible salary of £1.682m.
"It's a lot of money, I have to say," he told the BBC.
"But I think what our board has thought about is...the responsibility that comes with looking after banking for 4.5m customers, looking after £20bn worth of customers' money, and actually bringing a bank to the UK that is different," he said.
It is thought that will amount to a reduction of around £500,000 in what he might otherwise have received.
In developing its new strategy on pay, TSB said it had looked at other banks, and taken inspiration from John Lewis.
For that reason, all its staff will be granted £100 worth of shares in the business.
Rivals
TSB is being split off from its parent, Lloyds, after the European Commission made that a condition of the government's original bail-out.
With 631 High Street branches, it will be much smaller than its four big rivals.
Nevertheless most of those rivals will pay their bosses considerably more than TSB.
Antonio Horta-Osorio, the chief executive of LLoyds, will receive £1.7m in shares this year, on top of his salary of £1m.
Antony Jenkins, the boss of Barclays, was awarded £5.3m in shares in March.
And Stuart Gulliver, the head of HSBC, has been granted £1.7m in shares.
However, Ross McEwan, the chief executive of RBS, will take no bonus for 2013 or 2014.