New laws to stop claims firms giving away tablet PCs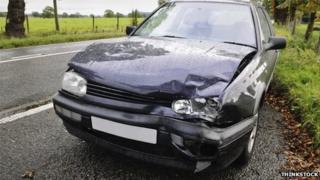 Lawyers and claims firms are to be banned from offering incentives such as free tablet computers to encourage people to make insurance claims
Courts will also be given powers to refuse compensation for claimants who have been dishonest.
The measures, announced by the Ministry of Justice (MoJ), are among several aimed at reducing insurance fraud.
Justice secretary Chris Grayling has warned insurance companies he expects the reforms to lead to lower premiums.
The MoJ is promising to legislate for the changes before the end of the current Parliament in May 2015.
If the plans become law, claims firms will no longer be able to offer potential clients free gifts, such as tablet computers, or cash.
'Compensation culture'
At least one firm in the UK advertises a "free iPad" to clients whose claim is successful.
Another offers "an upfront cash advance of £2,000" if the party at fault admits full liability.
The news was welcomed by insurance industry body the Association of British Insurers.
"We applaud the decision to ban the distasteful advertising which offers cash or other inducements for personal injury claims," said the body's director general, Otto Thoresen.
"This only serves to reinforce to unscrupulous claimants that there is a compensation culture to exploit."
Whiplash
At the moment, courts can decide to pay some compensation to clients for their injuries, even though they may have exaggerated them.
Under the proposed changes, courts would be required to block all such compensation, if the claimant had been shown to be fundamentally dishonest.
The courts would only have discretion over this in cases where "substantial injustice" would otherwise be caused.
The government says the changes will help cut the cost of motor insurance in particular.
Mr Grayling told BBC Breakfast: "These measures are designed to drive down on the cost of motor insurance.
"I've got a clear message to insurance companies - I expect to see those reforms converted into lower premiums for motorists.... I'm doing my bit - I expect them to do their bit."
Last week, figures showed that fraud in the insurance industry was running at a record £1.3bn a year and costs every householder £50 a year on their premiums.
Rules on whiplash claims are also due to come into force this autumn.
From October, new independent medical boards will assess such claims, to tighten up on people who claim for false whiplash injuries.