Has Tesco signalled the end of the free current account?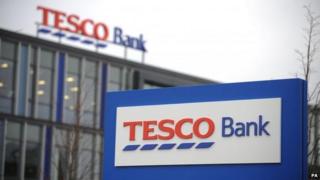 Tesco has taken a major step towards the ending of free in-credit banking, a mainstay of the High Street banks which many argue leads to obfuscation about costs.
Because High Street banks do not charge customers directly for their current accounts - critics say - they load on charges elsewhere, such as on overdrafts, or are obliged to sell additional products to their customers (and look where PPI ended up).
Free accounts, though, are at least universally available.
Tesco Bank's £5 a month charge for those who deposit less than £750 a month in their account sends a clear signal about the type of customer the retailer wants. Low-risk Tesco shoppers - rewarded with Clubcard points - who are in employment with a regular income.
What it says about access to banking for those who don't fit that mould is another matter.
Quoted by Mail Online this morning, Neil Duncan Jordan of the National Pensioners Convention, said: "This doesn't sound very pensioner friendly.
"It will exclude older pensioners on lower incomes - many of whom rely on the basic state pension which doesn't come close to the £750 a month required.
"There is also the online issue.
"The older you get the less likely you are to be connected to the internet and the less money you are likely to have."
Tesco says that a clear charge gets rid of the "smoke and mirrors" of banking. It costs banks to provide accounts to those who don't deposit any money in them but simply use it for transactions. This is all about transparency, the chief executive, Benny Higgins, argues.
Sir David Walker, the chairman of Barclays, is also sympathetic to the idea of charging for accounts.
Consumer group Which? has welcomed Tesco's new account, again on the basis that its fees are clear and that the major High Street banks need major challengers. Richard Lloyd of Which? said: "This new Tesco account is likely to appeal to the many customers fed up with shoddy service elsewhere."
Certainly with its High Street muscle and six million customers who already use the bank for savings and mortgages, Tesco's entry into the current account market will concern the big four banks as well as Nationwide which between them control the vast majority of the market.
In comparison, Metro Bank and Virgin Money (which took over the better bits of Northern Rock) are relatively small.
Many will argue that Tesco has every right to encourage a certain type of customer to bank with it. But if every bank follows suit on the issue of fees for current accounts it raises serious questions about who banking is for.