Windsurfing behind the Iron Curtain on the Black Sea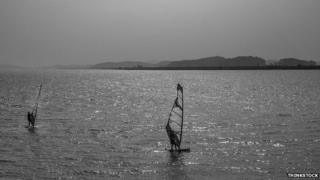 The countries of the former Eastern Bloc have totally transformed themselves since the fall of the Iron Curtain 25 years ago, as the BBC's Tanya Beckett reflects - drawing on her own experiences of the region, both then and now.
When I was 14 years old my parents took my brother and me to Romania on holiday. My father was always up for a bargain vacation abroad and it seemed, as they say, like a good idea at the time.
I didn't have much experience of hotels, but this one was awful - drab with a broken shower, and the food was pretty much inedible.
We exchanged our pounds for Romanian lei in clandestine manoeuvres, swapping wads of cash wrapped in napkins back and forth in the hotel.
In the absence of anything else to occupy our time, we managed to find a man teaching windsurfing on the Black Sea.
So we spent most of the time wielding a sail in the sun, and becoming pretty proficient in the water, as our parents waved frantically, shouting inaudible instructions from the beach.
The natural beauty of the country must have been a cherished bright spot for Romanians stuck in an otherwise grey and hopeless existence.
There was the odd bit of male attention for an adolescent me, but that was clamped down on pretty quickly by the security police, of whom most people seemed to live in terrible fear.
Beggars on the streets
Romania's Securitate seemed to be everywhere, and that wasn't just in people's minds. It was, as I was later to learn, the largest police force in the whole of communist Europe.
The few Romanians we could talk to described how they wanted to get out of a country where they could not choose their work, and where hope for a better future seemed an impossible prospect.
As part of my brother's and my education, our parents opted for a trip to Bucharest.
It was not the sort of day out you might hope for as a teenager - the capital was grey, and for all that we had been taught about the equality and benefits of communism, the streets were littered with beggars.
Fencing on bottled water
The experience of the holiday meant that when I studied at university, I found I had little tolerance for the table-banging students who espoused the benefits of communism without actually having understood how it worked in practice, and the despair it wreaked on society.
Whilst a student I went on a fencing trip to Poland. It was a test of survival. We couldn't drink the tap water and the only option we had while we were training was to prise open endless tiny bottles of fizzy water with anything we could find.
There was nothing in the shops really, just some ghastly salami, and the windows were filled with displays of the same item - quite often with those bottles of fizzy water again.
If you expressed a hope that there might be an alternative, you were batted back with not just incredulity, but impatience. Why entertain the prospect of diversity when all it could lead to was frustration?
When we travelled around, we noticed that the Poles had no interest in us at all. It seemed that the weight of their terrible history had expelled every ounce of joy from their souls.
The only escape was the lure of vodka, which we were introduced to on New Year's Eve. I wasn't used to handling spirits and aside from a few rather jolly flashbacks, I remember very little about the festivities at all.
Nostalgia for communism
Last month, decades later, I returned to central and eastern Europe to film some reports on how former communist countries had changed since the fall of the Berlin Wall.
We wanted to capture how some economies had managed to make the transition to market capitalism and how it had affected people's lives.
You can guess that in any society there are those who are driven by the idea of possibility and are happy to take risks, whereas there are others who favour the prospect of security.
The recent roller-coaster ride in the aftermath of the financial crisis has shown just how dangerous rampant capitalism can be, so this was a particularly interesting time to find people in some cases reflecting wistfully on the stability that communism had offered.
The two countries which leapt out at me as being polar opposites were, by coincidence, Romania and Poland. The latter has become a dynamic economy driven by hard working, determined people.
We visited a Fiat factory which was energetic, shiny and new. It looked to be at the cutting edge of how a business with a global perspective should be run. Gone was the pall of grief: it had been replaced by a nation with a uniform sense of purpose.
Romania, which we visited a couple of weeks later, was different entirely - Bucharest embodied a sense of opportunity squandered.
There are terrible cases of poverty, and Romanians are angry that government after government has failed to deliver on the nation's promise.
The next quarter-century
I wondered if the different outcomes had their roots in how their revolutions had taken place - in Poland through a dogged march by the unions, and in Romania a bloody confrontation which masked what was in effect, a coup.
Perhaps the trajectory of their economies since then came down to the political momentum at the start of their transitions.
When I came home and reflected more on what I had seen, I felt encouraged. Central and eastern Europe still has a way to go, but the next 25 years will be much more sure-footed than the last.