Ukraine-Russia gas row: No deal as talks to continue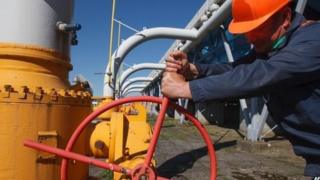 Resolving the disagreement between Ukraine and Russia over gas prices could take days, the European Commission has said.
"Maybe in next days, not tonight," EU energy commissioner Guenther Oettinger said, talking about a possible deal.
Russia had threatened to cut off gas supplies unless Ukraine paid its gas bill, which runs into billions of dollars, by Tuesday.
Talks between the two countries ended early on Tuesday without an agreement.
The EU, which is brokering the talks between the two countries, said they would resume again on Wednesday.
Russia pulled back from the Tuesday deadline after European Commission officials said negotiations would continue on Wednesday.
Pricing issue
Ukraine's Energy Minister Yuri Prodan said Tuesday's talks had stumbled over the price Russia would charge Ukraine in future.
"Unfortunately the Russian position regarding the price mechanism has changed," he said.
Russian Energy Minister Alexander Novak said he had proposed "a very constructive plan, which we believe all stakeholders could and should accept."
Ukraine wants to change the 2009 contract that locked Kiev into buying a set volume of gas, whether it needs it or not, at $485 per 1,000 cubic metres.
The price is the highest paid by any European country.
Almost 15% of gas used in Europe comes from Russia via Ukraine, and there are fears that if Ukraine's supplies are cut off it could impact supplies in Europe.