Gas row: Ukraine 'won't fall into Russian gas trap'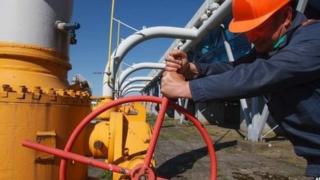 Ukraine has rejected a deal to decrease the price it will pay on a disputed Russian gas debt during long-running price negotiations.
Ukraine said that an offer from Russia of a discount of $100 for every 1,000 cubic metres of gas was part of a "trap".
Prime Minister Arseniy Yatsenyuk said Ukraine would not agree to any discounts within its current gas deal.
Russia and Ukraine are in talks in Brussels to try to resolve the issue.
The two countries are locked in a disagreement over a rescinded Russian gas rebate.
Ukraine wants a new gas deal based on "a contract, rather than on the basis of whether Russia likes the Ukrainian government or not", Mr Yatsenyuk said.
Before the rebate was cancelled, Ukraine's gas bill was heavily discounted by Russia to $268 per 1,000 cubic metres.
After the discount was withdrawn, the price went back up to $485.50 per 1,000 cubic metres, the highest in Europe.
Russia had threatened to cut off gas supplies unless Ukraine paid its gas bill, which runs into billions of dollars, by Tuesday.
However, following negotiations in Brussels, on Wednesday Russia extended the deadline until 16 June and offered the $100 discount.
That offer was rejected by Ukraine.
"I want to make an official statement that we know these Russian traps," Mr Yatsenyuk told a government meeting broadcast by 5 Kanal TV on Wednesday.
"The discount is set by the Russian government and is cancelled by the Russian government. So our offer was and remains unchanged. The contract must be changed."
Mr Yatsenyuk said Ukraine was prepared to pay the market price on its debt.
Almost 15% of gas used in Europe comes from Russia via Ukraine. There are fears that if Ukraine's supplies are cut off, it could have an impact on supplies in Europe.