Emirates cancels order for 70 Airbus A350s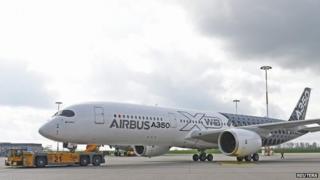 Dubai's Emirates Airline has cancelled an order for 70 of Airbus's A350 wide-bodied aircraft, the planemaker says.
Airbus said the cancellation had followed "ongoing discussions with the airline in light of their fleet requirement review".
In 2007, Emirates placed 50 orders for the A350-900 and 20 for the A350-1000, with deliveries due from 2019.
UK engine maker Rolls-Royce said the cancellation would lead to a £2.6bn hit to its order book.
"While disappointed with this decision, we are confident that the delivery slots which start towards the end of this decade vacated by Emirates will be taken up by other airlines," Rolls-Royce said.
A spokesperson for Emirates said the airline was "reviewing our fleet requirements".
'Game changing'
Airbus said it was confident that new orders "in the coming months" would compensate for the Emirates cancellation.
"There's no impact on the programme as deliveries were scheduled to start at the end of the decade," a spokesman said.
In a statement, the company said it was "very confident" in its A350 XWB programme, adding that it had 742 firm orders and it expected the order book to continue growing in 2014.
"Interest in the game-changing A350 has always been very high with customers," it said.
Airbus added that Emirates had recently "reiterated its confidence in Airbus products, particularly by praising the A380".
The airline ordered an extra 50 A380 superjumbo planes at the last Dubai Airshow.
However, investors took the news of the cancelled A350s badly, with Airbus shares closing down more than 3% in Paris. Rolls-Royce shares fell more than 5% in London.
The A350 long-range jet is a competitor to Boeing's 777 and 787 Dreamliner planes. The design of the A350 was changed in 2006 after potential customers were not impressed by the original plans.
Emirates announced it had ordered 150 of Boeing's 777X planes at the Dubai Air Show last year.
Sash Tusa, aerospace and defence analyst at Edison Investment Research, said the move by Emirates was real blow to Airbus, "with the loss of a 70 A350 wide-body plane order coming just as rival Boeing's 777X has been launched".
"It gives the unavoidable conclusion that the world's largest and most influential long-haul airline sees the 777X as the wide-bodied twin of the future," he said.