Wimbledon 2014: Li Na courts fans and sponsors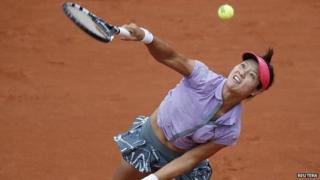 Li Na is not only the most successful Asian tennis player in history, but the Chinese star has been a trailblazer for the sport in her home nation, while also becoming one of the most marketable athletes in the world.
Tennis has exploded in China, thanks largely to her success, as she has notched a string of notable achievements since becoming the first Chinese player to win a WTA title back in 2004.
Since then the world number two has become a two-time Grand Slam winner, and the first from Asia to win a major singles title, the French Open in 2011.
Meanwhile, off the court she is second only to Maria Sharapova in terms of global earning power, with a number of major western and Asian sponsors.
She has a legion of loyal fans, with 23 million followers on micro-blogging site Weibo, and is considered an inspiration for many Chinese for the way she has battled to the top of her sport.
'Pressure'
China now has 15 million tennis players; many of them from among the 116 million who watched Li on TV as she won at Roland Garros three years ago.
"A lot of people in China now like tennis, but it is not only because of myself, there are some other girls too who are doing an excellent job," she says.
"It was exciting to win my first major, and I was so surprised when I found out how many people in China had watched me on the TV. This sort of pressure can be heavy, but it can also motivate me."
The Women's Tennis Association has put the 32-year-old at the forefront of a push into Asia, including a number of new Chinese tournaments.
"It is great there are many Chinese tennis tournaments now, for the fans to enjoy and see the top players," she says. "After the US Open we have many tournaments in China."
Her sense of humour was to the fore when she thanked her agent Max Eisenbud for making her "rich" during her Australian Open victory speech in January.
But on a serious note, she says: "Being rich is not just about money. If I had to choose between money and a trophy, the trophy is always the most important."
Though she jokes: "But if you get the trophy you usually also get the money."
Li Na endorsements
Tennis racquet maker Babolat
Athletic tape company Spider Tech
Chinese insurer Taikang Life
Australian resort operator Crown
China's Kunlun Mountain mineral water
Chinese dairy company Yili Group
South Korean electronics maker Samsung
Nike deal
When Eisenbud signed Li in 2009, her Nike contract was nearing its end and a number of Chinese sportswear companies wanted to kit her.
He negotiated a deal that allowed Li to wear shoulder patches on her shirt featuring non-Nike corporate logos. No other Nike player - even Roger Federer - was allowed to do so.
"She was keen to stay with Nike, but the Chinese firms were offering bigger figures, so I suggested that to make up the difference the patches should be allowed," says Eisenbud.
After the breakthrough French win Eisenbud signed seven large deals worth a reported $48m (£28m).
They included Mercedes-Benz and Taikang Life Insurance, who each paid about $2.5m a year to advertise via those shoulder patches.
"China, or Asia, is her main market," says Eisenbud. "But western brands also want her to help them break into Asia.
"I always knew we would need a [sponsor] balance between western and Asian companies."
'Nurture brand'
Eisenbud says that his client is now at the peak of her earning power.
"When you are starting out, you have to stay on your career path, be focused and believe that the money will come later," he says.
"You foster, develop and nurture your brand, but then - and I don't particularly like this term - you have to know when to cash in."
He adds: "There are one or two deals that have come about after the Australian Open win, but the Li Na sponsorship tank is pretty full now."
He says she has the power to continue being a brand ambassador when she hangs up her racquet, and he is already "working on her life after tennis".
Li did consider retiring last year because of indifferent results and some media criticism in China, but has bounced back.
"When you fall down, when you stand up again you feel much better," she says of that period. "I love my job, and I don't give up."
Retirement she says, will only come when she is no longer able to take the physical demands of tour life: "I will listen to my body."
Li famously opted out of China's state sports system and hired her own coaches, which also allowed her to keep a larger proportion of her winnings.
Eisenbud says whereas before most of her earnings went to the Chinese government, now she keeps 80% of her earnings. He says that despite going it alone his client "loves China and respects her home country".
'Opening doors'
In China her strong-minded, maverick, behaviour - as well as her tennis success - has made her a role model.
"I see Li Na as a Billie-Jean King type figure," says Eisenbud.
"They are both pioneers who have broken down a lot of barriers. She opened doors - she has sent out a message to young Chinese people that you can be successful at whatever you want."
Li says she wants to open an academy in China when she retires, to enable more young people to take up tennis.
But for now she is focusing on Wimbledon, and the challenge of playing on grass without a great deal of practice time on the surface.
"I wish I can do well, I think Wimbledon is a very special tournament, full of history," she says,
And her longer term ambition?
"The number one position - this is my goal, to be world number one."