AirAsia India set to start flights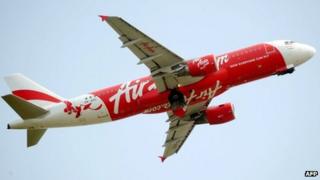 AirAsia India, the first airline with foreign investment to operate in India, is set to start flights on Thursday.
The airline has been set up by one of Asia's biggest low-cost carriers, AirAsia, and India's Tata Group.
The carrier's promise to become the "lowest-cost" airline in India has triggered a fresh price war in the sector.
Most of India's domestic airlines have been mired in losses owing to high fuel costs and intense price competition.
Only one of India's six main carriers, IndiGo, has been making profits in recent years.
Plane v train
India has seen a surge in demand for air travel in recent years, making it one of the faster-growing aviation markets in the region.
But despite huge potential, airlines have struggled to make money, not least because they have been trying to cut fares in an attempt to attract more customers.
For its maiden flight between Bangalore and Goa, AirAsia India has offered tickets for as low as $17 (£11), cheaper than the train fare for a second-class air conditioned cabin.
The move has triggered a price war, with other domestic carriers slashing their fares and also offering heavy discounts.
While that may be good news for travellers, it is not so good for airlines because most of them have been struggling financially.
For its part, AirAsia India said its model had always been about keeping the fares low and its costs "razor-thin".
AirAsia chief executive Mittu Chandilya said the model had worked in similar markets for the past 12 years.
"We believe that we will be able to bring that kind of discipline to India as well," he said.
India opened up its aviation market to foreign investment in 2012 in an attempt to boost growth in the sector and the overall economy.