Aer Lingus warns of 20% profits hit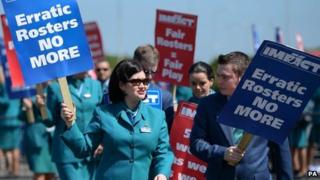 Irish airline Aer Lingus has warned annual operating profits will be 10-20% lower than last year following a strike by cabin crew.
The airline said a one-day strike last month and the threat of walk outs on 16 and 18 June had hurt future bookings.
On Wednesday, union leaders postponed the strikes following talks with the airline.
Aer Lingus said the exact impact on profits would depend on how quickly it could win back customers.
In a statement, the carrier said: "Aer Lingus welcomes the indication given last night by Impact, following an intervention by the Labour Court yesterday, to defer the further two days of strike action that had been called for 16 and 18 June 2014.
"This deferral is to allow consideration of an interim recommendation to be issued by the Labour Court today.
"However, the threat of this strike has caused significant damage to Aer Lingus' trading and forward bookings for several months into the future."
Two hundred flights were disrupted at the start of Ireland's bank holiday weekend on 30 May, as 1,200 cabin crew went on a one-day strike arguing that their rosters were erratic and imposed excessive fatigue on them.
Cabin crew have called for a new five days on, three days off roster system